Monday, April 28th, 2014
It's never too late
Parkway student takes great-grandmother to prom
By Margie Wuebker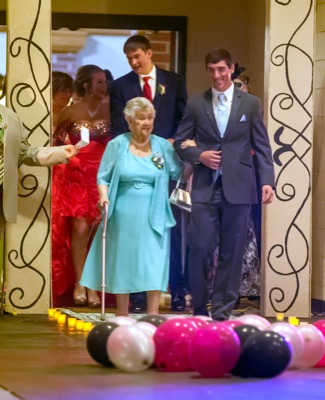 ROCKFORD - Delores Dennison waited more than 70 years to get dolled up for prom.
The 89-year-old and her tuxedo-clad great-grandson, Austin Dennison, received a standing ovation as they promenaded into the Parkway High School gymnasium Saturday night.
"I could not believe Austin wanted to take me when there are so many pretty girls around," she said. "At first I thought he was kidding but quickly learned he was serious and not about to change his mind."
Raised by her grandparents in West Virginia, money was scarce when she was a teenager and a limited budget did not include dollars for pretty party dresses and nylon stockings, she said.
"I never went to prom or any other fancy dances," she said wistfully. "Now I can say that is no longer the case, thanks to Austin."
She made sure the high school senior received permission from principal Brian Fortkamp to bring an older woman who lives outside the district. Fortkamp gave the student the go-ahead but joked "as long as she doesn't bring in alcohol."
"Good heavens, I don't even like the taste of the stuff," she said with a laugh. "I hope he was only teasing."
Because of a previous heart attack and stroke and ongoing problems with macular degeneration, Delores Dennison sought and received clearance from her cardiologist before confirming plans and making the trip to Rockford from Hartville. Then she and her daughter, Sandra Moyers, went shopping - an experience that proved eye-opening and tiring.
"I didn't want a dress that showed my bust," Dennison said matter of factly. "Oh my, a lot of dresses are cut so low they leave nothing to the imagination. The dress also had to cover my legs and be appropriate for an old lady."
Shopping took several weeks so she didn't tax her stamina. She rested in the dressing room while her daughter searched the racks. They finally settled on two blue dresses and made the ultimate decision at home: a pale aqua with a floaty skirt, a modest neckline and a rhinestone-studded jacket.
She chose comfortable silver sandals instead of high heels to lessen the chance of falling and a small silver clutch to hold her necessities.
"Instead of a comb and lipstick like the other girls, I carried my nitroglycerine and my puffer (inhaler)," she said with a chuckle.
Austin Dennison, who plans to major in exercise science at Florida Gulf Coast University and eventually become a firefighter, said a comment made months earlier by teacher Lucas Minnich prompted him to take his great-grandmother to the dance.
"Mr. Minnich spoke in class one day about his older brother taking their grandmother to a Parkway prom," the outgoing teen said. "I thought about my great-grandmother who never had a chance to go to the prom and I made my decision. Now we both have special memories to last a lifetime."
He surprised his date with a pearl necklace and a dainty corsage with white and pale blue rosebuds.
"Roses are my favorite flower," she proclaimed with tears in her eyes. "And I never expected a pearl necklace ... amazing. I forgot all about getting him a flower to pin on his jacket."
Austin Dennison, the son of Shane Dennison of Celina and Tisha Rodriguez of Chattanooga, had other surprises in store. The three-sport athlete and band member also serenaded his great-grandmother with a guitar and a special song.
His dad served as chauffeur and drove the couple to Delores Dennison's favorite restaurant - Bob Evans - for dinner before the special event. The last surprise of the evening came early when the band played her favorite song, "How I Love the Kisses of Delores" - a tune she once danced to with her late husband, Edward.
She didn't know her great-grandson had been practicing his footwork so she would not be embarrassed when they hit the dance floor, she said.
Although the night was still young for some, Delores Dennison headed home a little early.
"I was invited to after-prom at a bowling alley but that was out of the question," she said. "I left at 9 p.m. with Shane as my driver and went home to bed. Even special nights have to end early when you get up there in age. At 89, I can finally say I have been to a prom."