Monday, April 28th, 2014
Celina wins two to take Redskin Invitational
By Colin Foster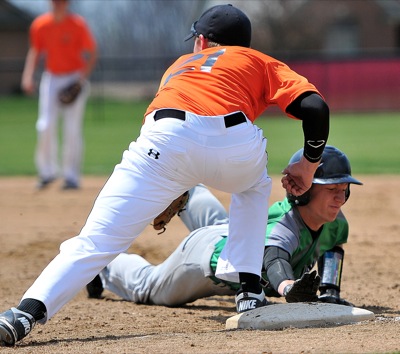 FORT LORAMIE - Cody Vogel was clutch in Celina's opening game victory over Minster on Saturday.
Vogel's seventh-inning single scored Damon Smith for the game-winning run in Celina's 4-3 win over the Wildcats, ending Minster's eight-game winning streak.
Celina's Kaleb Kuhn was a force in the second game, pitching a complete-game, 5-0 shutout over the host Redskins in the finals.
"It was the roughest week of the year last week, and just getting two wins here was huge," said Celina coach Andy Mikesell following an ice bath from members of the team. "We didn't want to just come out and compete, we wanted to win. We needed to get that mentality back, and get some spirits up as we get ready for the tournament."
After Vogel's hit gave the Bulldogs a one-run lead, Minster put two runners on base in the bottom of the seventh as Josh Nixon and Brandon Hoying led off with back-to-back bunt singles. A double steal moved them to second and third, but Celina pitcher C.J. Kimmel recorded three straight outs to close the door.
"We got our first two on (and) then we had three, four and five come up. ... Three, four, five didn't get the ball out of the infield," Minster coach Mike Wiss said. "(Kimmel) did a nice job of keeping the ball down."
Brandon McGillvary hit a double in the second and scored on a base hit by Stephen Fleck.
The Wildcats threatened in the bottom of the inning, putting two runners on with no outs, but Celina starting pitcher Seth Lonsway struck out a pair of hitters and forced a pop up for out three.  
Minster took the lead in the third as an error on Drew Ripploh's sacrifice bunt attempt scored Brad Walterbusch and Max Huber, who each singled to start the inning. Ripploh later scored on Jacob Wuebker's bunt.
A balk by Minster pitcher J.R. Nixon allowed Justin Keeling to tie the score in the fifth.
Lonsway struck out eight and allowed no earned runs in five innings of work. Kimmel pitched the remainder of the game for the win.
"I really wish we could of got Seth the win," Mikesell said. "He's done that a lot. He's pitched great games. He was awesome, and he's only going to get better the older he gets.
"I really liked C.J. coming in and not getting rattled, even with the bad call to start off the inning. It didn't affect him. He came in and got the job done."
J.R. Nixon had four strikeouts and no walks in five innings. Clay Brown pitched the remainder of the game and suffered the loss. Huber had two hits and a run to lead Minster on offense.
The Wildcats bounced back to win their consolation game against Elida, 9-6, surging to a big lead with a five-run fifth inning behind the bats of Clay Brown (three hits, including two doubles), Brad Walterbusch and Drew Ripploh (two hits apiece) and arm of winning pitcher Josh Nixon, who added a double.
"We split against two WBL teams, and that's good baseball," Wiss said. "We split without using any of our top three guys."
Kuhn took a no-hitter into the fifth inning of the second game, but had it broken up with one-out. Tanner Rosengarten followed with a double to put runners in scoring position. Kuhn allowed just three base runners for the entire game.
The Celina senior threw 88 pitches and recorded 10 strikeouts. He also had a two-run homer in the fourth to put the Bulldogs up 5-0.
"He was dealing," Miksell said of Kuhn. "Jimmy (Luebke) was calling a great game behind the plate. They know each other real well. That's a typical Kaleb Kuhn solid day."
Luebke had a two-run single in the third and Vogel added an RBI hit, as well.
Vogel finished the day 5-for-7 with a double and three RBI.
"He found his clutch bone. That's what we needed," Mikesell said.
Up next for Celina (10-9) is a rivalry clash with St. Marys Tuesday.
Minster will return to Midwest Athletic Conference action Tuesday, hosting New Bremen.