Tuesday, April 29th, 2014
Muhlenkamp goes professional
St. Marys grad playing in AUDL
By Colin Foster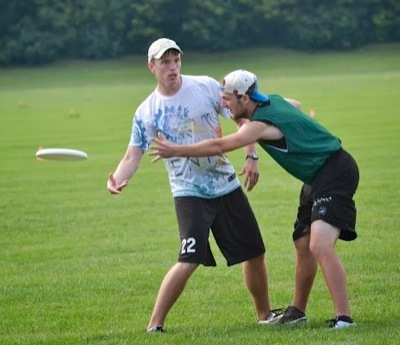 When Matt Muhlenkamp was spending his free time at cross country meets playing pickup games of ultimate frisbee, he never envisioned that it would land him a pro contract one day.
It did.
The 2010 St. Marys High School graduate is in his rookie season with the Cincinnati Revolution, a professional ultimate frisbee team that plays in the 17-team American Ultimate Disc League.
"Ultimate Frisbee is like the official sport of cross country. That's how I first got started," he said.
Muhlenkamp, a double major at Wright State University in finance and economics, has managed to pull quite the balancing act during his college career. He joined the ultimate frisbee club team when he was a freshman and has been the captain for the last three seasons.
The WSU club team practices three times a week and plays teams from various parts of the country. The Raiders have qualified for the regional tournament the last three years.
The senior said he has spent roughly 10 hours a week working on his ultimate game since his freshman year.
"That's working out, throwing practices, playing, all kinds of different things," said Muhlenkamp about his training regimen. "I played pickup here and there. League games, college practices, club practices, working out on my own, throwing with a friend."
Muhlenkamp went through a combine process, similar to those of other major pro sports, that led to his earning a spot at team tryouts. The 70-plus participants at the combine were timed in the 40-yard dash, put through agility drills and had vertical jumps measured. The combine also featured a live scrimmage.
"A lot of it was just playing, because that's where you can get a real feel for what people can do," he explained. "Athleticism is one thing, but especially in ultimate, the skills are extremely important as well."
The Revolution selected Muhlenkamp as an offensive line/ outside cutter, a position similar to a wide receiver in football.
"It felt good (making the team)," he said. "I knew a lot of players on the team. I was pretty confident I was going to make it. Still, it felt good to be recognized by others."
The Revolution is one of eight original AUDL teams. The team was founded in Kentucky as the Bluegrass Revolution and relocated to Cincinnati in 2013. The Revolution play their home games at Sheakley Athletic Center on the campus of the University of Cincinnati.
Last summer, the sport gained legitimacy when ESPN agreed to air several major ultimate frisbee events, including the college championships, the U.S. Open Ultimate Championships and the club national championships.
Muhlenkamp, who scored a goal in his pro debut against the Madison Radicals on April 12, played in his last game for the Wright State club team over the weekend. From here on out, he will be focused on his professional career.
"It's a big step up," Muhlenkamp said. "Everybody on the field is playing at a super high level. It requires a lot of work to get open, to make throws. Everything is just faster."