Wednesday, April 30th, 2014
NetDogs roll past 'Riders
Celina moves to 7-0 in WBL
By Gary R. Rasberry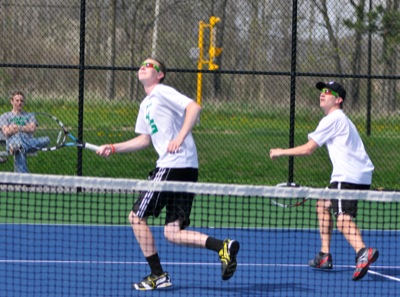 ST. MARYS - The Celina boys tennis team started its slate of Western Buckeye League tennis matches this week in fine fashion by beating cross-lake rival St. Marys 4-1 on a windy Tuesday afternoon at Minster Bank Courts in St. Marys.
The NetDogs improve to 7-0 in league fixtures with home league matches with Van Wert on Friday and fellow league unbeaten Shawnee on Saturday. The Roughriders drop to 2-4 in the WBL.
"I'm just glad we're playing," Celina coach Toma Hainline said. "The weather channel said it was going to rain every day. We got a match in last night (Port Clinton in the OCTA Team Tournament). I like the fact we could play the night before a league match, especially with Aaron (Seibel) being out last week with strep throat. It's good to get him a match before our league match."
Celina dominated in its four wins on the day, dropping just one game in those contests.
Aaron Seibel, dropped the only game in the Celina victories, beating Nick Rohr 6-0, 6-1. Aaron's twin brother Alex Seibel had no trouble in Second Singles against Zac Nelson, posting the 6-0, 6-0 win.
The NetDogs doubles teams also came away with 6-0, 6-0 wins to clinch. Isaac Elston and Kris LeJeune posted the shutout of Bobby Miller and Florian Hav in First Doubles with Hagan Kriegel and Joel Weitz, back together as a team after Kriegel subbed for Aaron Seibel last week, defeated Gabe Maas and Luke Gossard.
"The windy conditions were tough on everybody," Hainline said. "The boys came to play. They took care of business."
St. Marys posted a shutout in its lone win in varsity matches as Justin Nedderman picked up the 6-0, 6-0 win over Nathan Lutz.
Posting exhibition wins for Celina were Garrett Weininger and Matt Rable in singles matches along with the doubles teams of Andy Ewing and Caleb Wenning and Heath Laux and Drew Rosengarten.
Before the NetDogs can focus on Van Wert on Friday, the team travels to Greenville on Thursday for a non-league contest. The Green Wave are 2-0 in the Great Western Ohio Conference's North Division and 9-4 overall.
"Right now, our theme is 'Step by Step.' We'll look at Greenville next," Hainline, who coached at Greenville, said. "They have a good foreign exchange student (Voja Tatarevic, who is 11-2 on the season) playing number one, so that will be a good challenge for Aaron. They're always solid."
The Roughriders return to action on Friday at Defiance. St. Marys still has Kenton (May 5) and Bath (which was postponed but not rescheduled as of this time) before next week's league tournament at the University of Northwestern Ohio.