Thursday, May 1st, 2014
Band makes 40th straight appearance
By Amy Kronenberger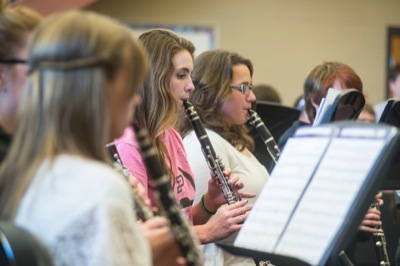 ROCKFORD - Harmonies from low-pitched tubas to the bright, high pitch of flutes echoes with added pride this week through the halls of Parkway Local Schools.
The 87 members of the high school concert band know they are part of a legacy as they prepare for the band's 40th consecutive appearance at the Ohio Music Education Association's state competition 10 a.m. Saturday in Findlay.
Band director Ryan Twigg said he's proud of the milestone but knows the students' hard work is more important.
"It's not about qualifying for state and never has been," he said. "Our program has always focused on doing our absolute best in preparing. In the end, it's not about the ratings. It's about the work that went into earning those ratings."
Twigg knows his band's accomplishment is rare but isn't sure of its uniqueness. He knows a few schools have come close to Parkway's record, but only one - Grove City High School's Symphonic Band - has matched the success, he said.
In the Grand Lake area, only Marion Local High School Marching Band has come close to the milestone with 35 consecutive state appearances (1984-2013). OMEA does not keep statistics on state performances.
To qualify for state, a band must receive an overall superior rating in its performance of three prepared music selections and one sight-reading performance at a district competition.
Twigg distributes the songs to band members in December or early January. At district competition, the band performs its prepared pieces to three judges before going into another room and playing an easier, never-before-played selection. The students review the music for four minutes, the director gives verbal instruction for four minutes and then the band performs the song to a fourth judge, Twigg said.
Scores from the four judges are combined to determine the final rating: I, superior; II, excellent; III, acceptable; IV, poor; and V, very poor.
Bands must change at least one of their three chosen songs for state, Twigg said.
"Some groups change all three selections," he said. "Our band typically changes one and works on fixing any errors made at the district level. ... Bands can get away with some small errors at district. A band should perform at a nearly flawless level at state in order to receive the superior rating."
Parkway's band has received more than 40 superior ratings at state competition but not consecutively, Twigg said.
Senior Dakota Schaffer said learning how to play the various tunes and multiple instruments has been a fun experience. She plays the trumpet, French horn/mellophone and baritone.
"(It) is a huge pleasure and a great thing to know how to do," she said. "But when it comes to contests, it's all about watching Mr. Twigg coming out of the building and saying 'We got a I!'"
Seniors Emilie Fisher and Courtney Dicke said the best part of band is sharing the experiences with their friends. Fisher plays flute and Dicke plays clarinet.
"My favorite part about being in band is definitely all the great experiences we get to have and all of the people we get to spend time with," Dicke said.
"My favorite part about contests is riding home after a superior rating and driving through Main Street in Rockford," Fisher said.
The band is always given an escort through town by the fire department after they return from a state performance.
Parkway's tradition of excellence began with longtime director Richard Sherrick, who led the band to state competition from 1975 until his retirement in 2007. Sherrick came to the school in 1971; it was his first job after completing college and serving in the Army. He noted band directors rarely stay at one school for their entire career.
Sherrick said much of his success came from the love and support always given by the school's administration and the community.
"From day one at Parkway, I had the best booster and parental support a teacher could ask for," he said. "The boosters at Parkway have become the key to the success of the Parkway music program. Great parents and students are the key to a great program."
Sherrick's favorite memory is his students' consistent rise to success.
"The fact that Parkway students let me push and demand excellence without questions has to be tops," he said. "I do not think we have a very large number of professional musicians, but I do feel that there are hundreds of students that understand that music is a very important part of everyday life. Because we expected and demanded excellence, and they responded in turn, they now have a deep understanding of what it takes to obtain excellence in everything they attempt. This was my goal."
Former band member Angie Blount (1978-1982), said Sherrick taught her many lessons she still uses today. Blount and her bandmates were told their appearance and behavior reflected on the school and community and they were expected to show the proper respect when in uniform. They also were taught that loyalty, dedication and working together as a team would bring success, she said.
"Today, I expect my staff to work together and figure things out, and I find myself telling them 'we are a stronger team working together than we are if we don't communicate with each other,' " she said. "I also find that I have been successful by being loyal and supportive to my employer and my staff - a lesson I learned as a high school student that has no doubt contributed to my successful career."
Former band member Holly Strunk agreed Sherrick taught more than music.
"Band doesn't just bring school spirit to the sporting events, it brings memories that will last a lifetime," she said. "Mr. Sherrick ... taught us hard work and discipline. These traits have stayed with me for a lifetime."
Sherrick said Twigg was chosen to replace him out of 50 applicants. The former director wasn't part of the selection process but said he put in a good word for Twigg after hearing from a friend that his young replacement was "one of the best student teachers her school had ever seen."
"He was fresh out of college; this was his first job, just like it was my first job and only job after the service," Sherrick said.
Twigg said he knew he had big shoes to fill. He also knew bands rarely maintain the same success level when a new director takes over but said he was too busy planning his program to worry about the legacy.
"A transition of this type is never easy," he said. "In some schools there is an assistant band director who either assumes the head director job or at least is around to help out with the transition. At Parkway, we all just had to adjust to an abrupt change."
Twigg admitted he had some difficulties his first few years.
"I had to prove myself to them," he said. "Mr. Sherrick would visit the band at just the right times my first year to assure them I knew what I was doing as a band director. I'm sure it was hard for him to turn over his baton to a beginning teacher, but I think he enjoyed his new role as my mentor."
Sherrick said he thinks Twigg is a great director and was the right person for the job.
"He was smart enough not to do drastic changes," Sherrick said. "Over the last seven years he has made the band program his own while holding on to the traditions, expectations and excellence of the past."