Thursday, May 1st, 2014
Wilker leads Roughriders past Bulldogs
By Gary R. Rasberry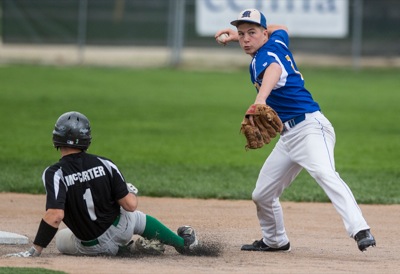 CELINA - St. Marys sophomore Nathan Wilker returned to the mound Wednesday to finish a shutout of backyard rival Celina as the Roughriders go to 4-1 in Western Buckeye League baseball action with a 6-0 win over the Bulldogs at Montgomery Field.
Wilker started for St. Marys when the game began Tuesday and went through the first two innings without issue before the game was suspended in the bottom of the third due to weather.
After assuring coach Jim Dieringer his arm was all right to return to the mound, Wilker promptly pitched three more innings of no-hit ball before a Jacob Homan single ended his hitless run.
"I did have some reservations about it, but it was all based on how his arm is. He told me it was fine," St. Marys coach Jim Dieringer said. "He wanted to go today. I made sure he got some running in last night and evaluated him today and he said he was good to go. His pitch count was a little higher than I would have wanted. He did well."
Celina went to southpaw Cody Vogel in relief of starting pitcher Jimmy Luebke, who allowed three runs on six hits in 3 2/3 innings. St. Marys' bats did not simmer down during the break as Tristan Becker greeted Vogel with a single and then advanced to second on a passed ball. Mason Gross singled in Becker to make it 4-0.
"I was glad with two outs we were able to get some runs on the board," Dieringer said. "I thought that kept momentum on our side."
"It got in our heads a little bit, negatively," Celina coach Andy Mikesell said. "If it were positive, it (would have) fired us up a bit. I told them 'Let's see what you come out with, essentially starting a game with backs against the wall right away. Let's see how you respond.' We didn't respond."
"He's been up and down health-wise. We've been keeping a close eye on him," Miksell said of Vogel. "We wanted to give him a simulated start, if you want to call it that. That's what we did today. It took him awhile to settle in, which is a little expected. Once he settled down, he was throwing well."
Vogel shut down St. Marys in the fifth, but allowed back-to-back one-out singles to Dirk Fenwick and Jared Knous, with Fenwick coming around to score on a throwing error and Knous scoring on a Gross sacrifice bunt.
Wilker only allowed one Celina baserunner to reach third base during the game and just two hits as Brandon McGillvary singled with two outs in the sixth. In the seventh, Wilker alternated strikeouts and walks before getting Kaleb Kuhn to ground to Gross at first to end the game.
"There's not really a secret to him. He was around the plate for the most part (and) had a decent pop on his fastball," Dieringer said of his pitcher. "I don't know if he mixed speeds as well as we want him to. ... He pitched nice."
"He's a good kid,' Mikesell said of Wilker. "They probably hit the ball better than any team we've seen."
Knous and Becker each had two hits for St. Marys.
St. Marys is back in league action tonight in a makeup game with Shawnee. Celina travels to Van Wert on Friday to face the Cougars in a league contest.