Friday, May 2nd, 2014
Retz's shutout leads Indians past Panthers
By Gary R. Rasberry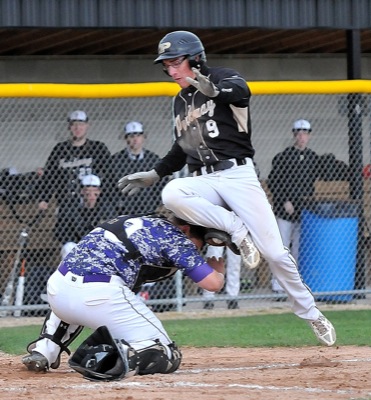 ROCKFORD - Kent Retz threw a complete game two-hitter to lead Fort Recovery to a 4-0 win over Parkway in Midwest Athletic Conference baseball action Thursday afternoon at Don Black Field.
The win moves the Indians to 13-1 on the season (13 straight wins) and 2-0 in MAC play going into tonight's big conference game at home against Coldwater.
Retz walked one Panther batter in the game and another batter reached on an error.
"I certainly think the story of this game is pitching," Indians coach Jerry Kaup said. "I thought Kent pitched an excellent ballgame. He was outstanding."
"They're making plays and having fun all over the field," Parkway coach Luke Clouse said. "Right now, we're on the side of struggling. We're trying. Good Lord we're trying"
Fort Recovery scored its runs early against Parkway starter Wyatt Felver. Kyle Schroer singled in Blake Boughman in the second inning for the eventual winning run.
In the third, Derek Backs led off with a single and went to third on Mitch Stammen's single to right-center. Stammen and Backs executed a perfect delayed double steal with Backs scoring on the play to make it 2-0. After Cole Wendel walked and Elijah Kahlig bunted the runners over, Boughman hit a long single to center to clear the bases for the final two Indian runs.
After the third, Felver shut down the Indians, retiring the final 11 batters he faced before leaving after six innings. Brody Adams pitched a perfect seventh.
"He looked pretty well," Clouse said of Felver. "It's been tough."
"I thought (Felver) pitched a nice ballgame himself," Kaup said. "We were able to make a couple of plays and scratched some runs out. Pitching on both sides were outstanding."
Retz allowed a double to Ryan On in the second and a leadoff walk to Brandon Gibson in the third before retiring the next 13 batters he faced. Felver's two-out single in the bottom of the seventh snapped the streak before Retz enticed Austin Dennison to ground to third to end the game.
The Fort Recovery defense played well behind its pitcher, making several fine defensive plays, including a double play and a perfect relay throw from deep left field to Boughman behind the plate to tag out On in the second inning.
"They made plays. That's what it comes down to," Clouse said. "We hit the ball at them a couple of times pretty hard and their boys made the plays. That's all you can ask for."
Parkway is back home at Don Black Field tonight, hosting Minster in MAC play.