Monday, May 12th, 2014
Wenning goes to Ravens in sixth round
NFL Draft
By Gary R. Rasberry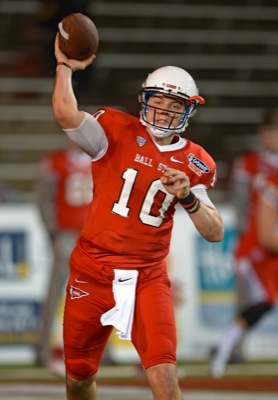 It was late in the afternoon Saturday when Keith Wenning found out where he would be heading to continue his football career.
The former Coldwater and Ball State quarterback was selected by the Baltimore Ravens with the 194th pick in the sixth round of the NFL Draft.
Wenning, who was projected to be anywhere from a late-round selection to signing as a free agent coming into the draft, was at home with family and friends watching the coverage on television.
Then around 4:30 p.m., the phone rang.
"It was nerve-wracking," Wenning said about the wait. "Coach Harbaugh (Ravens head coach John Harbaugh) called and asked if I wanted to be a Raven. I said absolutely and (the rest of the day) went into a whirlwind from there. My name then came across the screen (after the call from Harbaugh). A dream come true."
The Ravens were one of the several NFL teams that brought Wenning in for pre-draft conversations and workouts in April.
"I met with some of the coaches and we hit it off," Wenning said. "A lot of the stuff we did on offense (at Ball State) they do (in Baltimore). That's where a little bit of the connection came in. The coaches are great. The offensive coordinator (Gary Kubiak) is coming from the Texans. It's a great opportunity. I'm looking forward to it."
Wenning was the only quarterback drafted by the Ravens and will look to battle Tyrod Taylor for the back up spot behind starting quarterback Joe Flacco.
"To work behind a Super Bowl-winning quarterback is going to be a good experience learning from him and working in tandem," Wenning said. "I'm looking forward to (meeting Flacco) in a few days."
The time for celebration was short as Wenning flew to the Ravens' camp on Sunday to get ready for the team's rookie/free agent camp.
"I'll get started on Monday," Wenning said.
Among those he credits for helping him get to this point is the late John Reed, who coached Wenning as well as former Cavalier Ross Homan, who was drafted in the sixth-round pick by Minnesota in the 2011 draft.
"Coach Reed definitely taught us how to be a man. How to act on the field and off the field," Wenning said. "He showed us how to work hard and take nothing for granted. That's been with me throughout college and I'll carry it with me to the next level."