Thursday, May 15th, 2014
By William Kincaid
City looks to create park plan
Officials seek input from Celina residents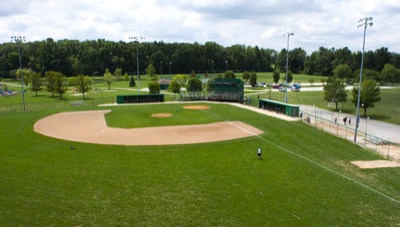 CELINA - With an infusion of thousands of state dollars coming in July and the city's acquisition of the Mercelina Mobile Court on the horizon, officials are seeking a long-term plan for Celina's parks.
And they're soliciting public opinion on how to develop and enhance the 124 acres of the city's park system.
"There's not been much planning done here with our parks. It's kind of been 'hey, we got a piece of equipment, let's throw it into an open space,' " safety service director Tom Hitchcock said this week at a parks and recreation committee meeting. "We want to start doing some planning and get the public involved, get council involved, instead of us just making (decisions)."
Funding set aside in the state capital budget bill will allow the city to expand Eastview and Westview parks. Celina was awarded $285,000 toward $472,000 in baseball field upgrades at Westview and $150,000 toward a $478,000 upgrade at Eastview.
Funding and cost estimates for other proposed, long-range park plans have not been discussed by officials.
Councilman June Scott asked if the city should designate each park - Eastview, Westview, Lakeshore, Mercelina and Pullman Bay - for a specific function, such as athletic fields or playground, or keep each as general recreation.
Discussion ensued.
"Instead of trying to do all the parks the same and have exactly everything be excellent in every one, because we can't afford to do that, maybe you kind of gear these parks toward certain (themes)," Hitchcock said. "Like Lakeshore park becomes the (event) park."
"First of all, I think that the parks are large enough that we could have more than one emphasis," councilman Bill Sell said. "... If you look at Coldwater park, it's pretty utilitarian. They can do everything over there at one park centrally located. Everybody in the town uses it."
Although Celina's sprawling parks are separated, Sell said it would be good if the city could have at least some things for little kids at each venue.
For instance, the city recently purchased two swing sets with a $7,500 state grant, according to public works superintendent Joe Wolfe. Officials are contemplating placing them at Westview Park to entertain kids who accompany their parents to softball games.
Councilman Fred LeJeune, who called for the meeting, stressed the importance of setting up play equipment for children at all the parks.
"It's (swing sets) something new and different and again, we have to accommodate not only the little kids but also the parents who want to come see their older kids play but yet have some way to contain their smaller (children)," he said.
Council explored the following possibilities for the city parks:

Lakeshore, Mercelina and Pullman Bay parks
Most of the property along Lake Shore Drive could become a venue for the city's lakeside events after trailers are removed from Mercelina Mobile Court and the former Versa Pak building is razed.
Tenants in the mobile court have until the end of the year to move out and several trailers already have been dismantled or taken out. The former Versa Pak building reportedly will be razed before the end of the year.
"It will all soon become one park," Hitchcock said.
"I personally don't want to spend one iota of thought on that until I see the trailer park out of there and that building of Larbus' (Versa Pak) out of there ... because that's a lot of acreage there and you really got to plan some years out on what we think we want to see for some long-term (goals)," councilman Jeff Larmore said.
"Everybody needs to start thinking about it because this is going to be there pretty quick," Hitchcock said.
Sell said he understands why Larmore wants to wait until the area is cleared before taking any action, but a long-term strategy is paramount.
"Without the plan, we do start just plugging things in and that's what happened with some of our other parks," Sell said. "I like the idea of coming up with a long-term plan what we're going to do with Lakeshore Park when this is all green. The more that we're committed to that ... and it might take 20, 30 years, it's coming and we have to come up with something in the meantime."
The city made a $1.5 million down payment on a $2.94 million acquisition of the two properties on the shore of Grand Lake. The city borrowed $1.2 million from Mercer County on behalf of the Bryson Trust Fund and eventually will be reimbursed from the Bryson Estate so the county can be repaid. Celina is committing about $300,000 toward the project.

Westview Park
Work will begin in July on three new ball fields at Westview Park, according to Hitchcock.
"What we're proposing is somewhat of a quad here," he said, explaining the soccer fields will be turned into two baseball/softball fields. "And then Jim Hoess Field will get converted to Little League-size/girls softball-sized field, 200-foot fence, and then we'll put soccer fields out in the grass, out in the outfield."
The high school girls softball team is raising funds to build a field at Westview Park that will count as the city's match to the state grant dollars, Hitchcock said, adding he's unsure how much money the team has raised to date.
Some damaged playground equipment at the park is being dismantled due to the harsh winter and vandalism, leaving little for children to play on, he said.
"We have vandalism at almost every park," Hitchcock told councilman Mark Fleck.
Council members discussed putting something in the center of the fields, possibly a few swings and slides, so parents could keep an eye on their children from any of the diamonds.
"I'm just going to echo that as a father of four, I've got older ones that play sports, the younger ones always use the playground equipment. If we put something in the middle, that's perfect, and I've heard that from more than one (person)," council president Jason King said.
"But the question is how much do we need to put (there)?" Hitchcock asked.
"I understand that but there's got to be something and we got to figure out where to get the funding for it," King replied.
It doesn't have to be elaborate, LeJeune said.
Hitchcock said the Bryson Trust Fund could be tapped in the future for additional playground equipment.

Eastview Park
The city was allocated $150,000 in state dollars toward a $478,000 upgrade of Eastview Park, including redoing the fields, such as converting diamond three to a men's softball diamond to allow for tournaments in the park, paving a path around the pond and building a new shelter house.
Council members discussed possibly eliminating one of the smaller diamonds since new fields are set for Westview Park, and turning it into an area for playground equipment. Hitchcock said city employees could relocate the equipment from the wooded area to the diamond.
"They could sit there with their kids and watch the game from where they're sitting," Scott said.
"My only opinion on that is it's (playground area) shaded in there. In the summer time, people go there because it's cooler," Wolfe said. " ... Moving it out of the middle of the woods you're going to lose all of your shade."
Wolfe also said playground equipment was never placed by the pond because parents watching games wouldn't want their children near the water.
Hitchcock also asked what type of facilities or activities could be set up in the wooded area of the park to attract empty-nesters, the retired people who decamp in the winter to Florida.
"Why are they active in Florida but not active here?" he asked.
Bean bags, horse shoes, Frisbee golf are possible ways of utilizing the wooded area of the park, council members said.
Additional online stories for this date
Print edition only stories for this date
• New Bremen takes another look at plan for drug tests
• Health department looks at changes in leadership
• Health board increases insurance coverage
• St. Marys, Coldwater students recognized
• Parkway graduation slated Sunday
• Local author's perseverance pays off
• Indians beat Lancers
• Wildcats rally to beat Bearcats
• Modifieds highlight Family Fun Night
• Flyers get big tournament win in 1997


Online Video

Photo Albums
Saturday, August 30

Saturday, August 30