Thursday, May 15th, 2014
By Colin Foster
Flyers hold on for win
Division IV Sectional Baseball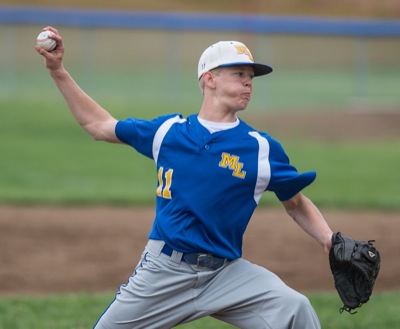 MARIA STEIN - Marion Local sophomore Cole Griesdorn scored the eventual game-winning run on Nick Heitkamp's infield single in the sixth and put an emphatic exclamation point on his complete-game pitching gem with a strikeout on Dalton Bunch to end the game. The Flyers now advance to the Division IV district round for the first time since 2009 with their 2-1 victory over Perry Wednesday night.
Marion Local will meet the winner of tonight's game between New Bremen and Crestview in next Wednesday's district semifinal game at Veterans Field in Coldwater.
"We're real happy about this," Griesdorn said. "We want to make history for Marion Local. We haven't done it (reached district) in a long time and we wanted to be the team to do it."
"I thought this would be possible," said first-year Marion Local coach Dustin Woods said. "The guys have really came together, but they've showed ups and downs, ups and downs. I knew if we pulled it together at the right time, we could win a couple games here."
Griesdorn allowed three hits and finished with nine strikeouts. Perry had the tying run standing 90-feet from home with two outs in the top of the seventh, before Griesdorn closed the door.
"That's really what I was going for the whole time," Griesdorn said. "I wanted to end it out like that just to get the crowd pumped up. I did it."
"Anytime Cole's on the mound, he gives us a chance to win," Woods said. "He's a guy who comes everyday and wants it. He doesn't need to get motivated by nothing, except by handing him the ball."
The Flyers were shut down by Perry lefty Alan Ogle for the first four innings. Duane Leugers gave Marion its first hit with a bunt in the third but was stranded at first as Ogle recorded his third strikeout of the inning.
Cory Heitkamp's RBI single scored Peyton Kramer in the fifth and gave Marion a short-lived 1-0 lead. The Commodores tied the game in the top of the sixth when Chad Henson's single plated Baylor Buetner.
Griesdorn reached on an error to open the sixth and was bunted to second by Ryan Thobe. Ogle's throwing error on a pickoff attempt at second landed Griesdorn on third and Heitkamp gave the Flyers back the lead for good with his infield single.
"I've been telling them the whole year, 'Play seven. You've got to play seven,' " Woods said. "You've got to put pressure on the other team. They'll make mistakes. That's how tournaments go. Sometimes the best team doesn't win. The team that plays the best that day (wins) and we played the best today."
Additional online stories for this date
Print edition only stories for this date
• New Bremen takes another look at plan for drug tests
• Health department looks at changes in leadership
• Health board increases insurance coverage
• St. Marys, Coldwater students recognized
• Parkway graduation slated Sunday
• Local author's perseverance pays off
• Indians beat Lancers
• Wildcats rally to beat Bearcats
• Modifieds highlight Family Fun Night
• Flyers get big tournament win in 1997


Online Video

Photo Albums
Friday, August 29

Friday, August 29

Friday, August 29

Friday, August 29