Friday, May 16th, 2014
Program puts deputies on school buses with students
By Margie Wuebker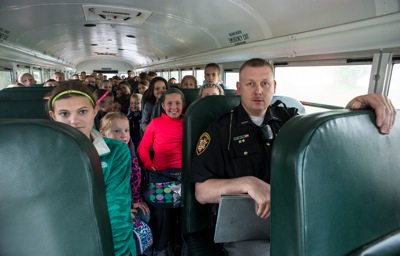 Area bus drivers are getting periodic backup as part of a new ride-along program launched by the Mercer County Sheriff's Office.
Uniformed deputies periodically board buses in the Celina, Coldwater, Fort Recovery, Marion Local, St. Henry and Parkway school districts to watch for traffic offenses committed by motorists and to build a rapport with youngsters.
"We started this in October and will complete 23 ride-alongs by the time classes end for the summer," said Sgt. Jay Wehrkamp, who oversees the program.
Deputies alternate ride-along duties about once a week and have logged more than 31 hours. Some meet drivers at the bus garage or another central spot in the morning or afternoon.
"Drivers tell us there isn't quite as much noise when a deputy is on board," Wehr-kamp said. "We haven't noticed any disagreements or confrontations on the routes, so our presence could be a deterrent."
Marion Local Superintendent Mike Pohlman said ride-alongs have provided an opportunity for deputies to see what bus drivers deal with on a daily basis. Other motorists can be impatient about traveling behind a bus that makes frequent stops - sometimes to the point of passing despite flashing red lights.
Ohio law states motorists shall stop at least 10 feet from the front or rear of a school bus stopped for the purpose of receiving or discharging any school child, and shall not proceed until the bus resumes motion, or until signaled by the school bus driver to proceed.
Violators may be fined up to $500. A person who is issued a citation is not permitted to enter a written plea of guilty and must appear in person in the proper court. The court or mayor may impose a class seven suspension of the offender's driver's license.
Wehrkamp said deputies have not seen any flagrant violations during the rides.
"We have gained even more respect for bus drivers in the process," he added.
Pohlman also sees merit in having students meet law enforcement officers and build trust in a relaxed setting.
"Ride-alongs break down barriers," Wehrkamp agreed. "Children begin to see the deputy as a person and not as a symbol."
Students climbing aboard a bus to find a deputy occupying a seat near the front are sometimes speechless. Then the questions begin about taking criminals to jail and about the officer's handcuffs and gun, Wehrkamp said.
The Buckeye State Sheriff's Association initially promoted the program and Wehrkamp was tabbed to oversee local implementation. School districts are not charged for the service and no extra costs are incurred by the sheriff's department.
"The sheriff's office recently met with school superintendents and they want to see ride-alongs continue," Wehrkamp said. "They see the value and so do we."