Saturday, May 17th, 2014
Wenning gets last chance to compete
By Gary R. Rasberry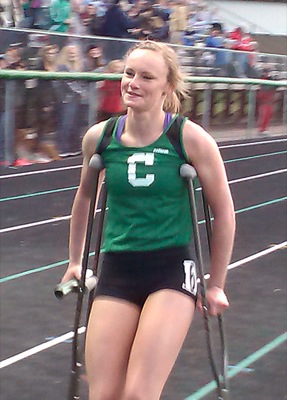 CELINA - With a league title already in hand, Michaela Wenning got ready to compete, although she needed some extra help thanks to the cast on her foot.
Wenning, who won four WBL events and was the Division II state champion in the high jump in 2013, had missed the entire season with a stress fracture.
Tuesday, as the Celina track team got ready for the Western Buckeye League Track and Field Meet, Wenning had to break the news that the stress fracture had become a complete break, taking away any chance of competing in the meet.
Or so she thought.
"When I told (Celina coach Dan Otten) I had a broken leg, he told me he would put me in the 4x400 relay," said Wenning. "It was kind of a weird idea. I didn't know how it would be."
The only way for the plan to work would be for Celina to have a large enough lead going into the final event.
After the 3,200, the Bulldogs were up 99-80 on Ottawa-Glandorf, a margin that the Titans could not make up in the final event. That was when the plan was put into action.
"A lot of it was they wanted Mickey to be in the 4x4," Otten said. "That was a little motivation."
Getting the baton from Emily Jackson, Wenning tucked the baton into her right hand and began to work her way around the track for the last lap of the relay, keeping a slow pace to not to fall on the track. The whole track was hers as the rest of the relay teams were finished and became spectators as Wenning worked her away around the track. As she came down the front stretch of the track where the stands were located, the applause grew. Wenning crossed the line, giving Celina a single point for finishing sixth in a time of 8:08.44, nearly four minutes behind the winning time of Ottawa-Glandorf, not that the time mattered.
"It was awesome crossing the finish line, my last one (in high school)," said Wenning. "Bringing it home with the 100th point (for Celina in the meet)."