Saturday, May 17th, 2014
Cavs beat Redskins for share of MAC
By Lyle Kittle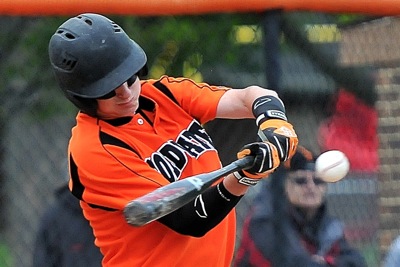 COLDWATER - Any matchup between backyard rivals St. Henry and Coldwater will feature common characteristics: they'll be close, they will have an overflowing crowd, they will be unpredictable, and more often than not, those confrontations will also involve a battle for poll, playoff or Midwest Athletic Conference supremacy.
Friday evening's regular season ending battle between the school's two baseball teams possessed each of those traits.
St. Henry, ranked second in the Division III poll, came in with a conference mark of 8-0 and an overall record of 24-2. Coldwater, ranked number one in D-III, held a 7-1 slate in the conference and a season record of 23-3.
When the smoke had cleared, each team was 8-1 in the MAC and 24-3 on the year after Coldwater registered seven unanswered runs to take a come-from-behind, 7-3 win at Veteran's Field.
The Cavs scored five runs in the fifth inning and added two more in the sixth to gain a share of the MAC crown. A St. Henry win would have given the Redskins the outright title.
The winning rally was started by a one-out base hit by Mitch Schoenherr. Brody Hoying singled and Otten's single drove home Schoenherr. Hoying and Otten moved up on an error and Bettinger walked to load the bases. A single by Mitch Heyne plated Hoying.
"That was a great at-bat by Mitch Schoenherr," said Cavalier skipper Brian Harlamert. "He got down 1-2, fouled a couple of pitches off and worked the count full, then got a base hit. That started things for us. We took advantage of the opportunities we had."
With two outs, Adam Klosterman lofted a single down the left field line that scored Otten and Bettinger to make it 4-3. With confusion reigning among the St. Henry defense as to whether the ball was fair or foul, Heyne took the opportunity to score.
"Baseball's a game of luck and you have to take advantage of that kind of thing," Harlamert said. "We had a ball hit down the line with two outs and it tied that game, and Malave Bettinger charged home for the fourth run. Mitch Heyne came along right behind him and scored the fifth run on a hit that didn't go far."
"We had a couple of calls go against us and I think we got rattled, and then we started making mistakes," said Redskins' coach John Dorner. "We had a play at first base where the umpire was partially blocked and couldn't see the play clearly and we had a runner called out, and then we had a play down the line in left where we over ran a ball that landed just foul and it appeared to the umpire it was fair. We've got eight seniors and plenty of experience and we shouldn't let that kind of stuff get to us."
The Cavaliers added two more runs in the sixth. Matt Kramer and Brandon Kunk started the rally with singles and consecutive walks to Bettinger, Heyne and Grant Muhlenkamp forced home the remaining runs.
St. Henry had gotten its runs on an RBI single by Ryan Mikesell in the second and on a two-run error in the third.
Although the stat line doesn't show it, St. Henry's Mitchel Stammen pitched much better than the stats indicate.
"I thought Mitchel threw a great game," Dorner said. "We made some mistakes behind him and he made a mistake on a bunt. I don't think they hit him that hard, but they capitalized on what was there and that's the mark of a championship team. They did that; we didn't. It's something we can correct. At least we had it tonight and not during tournament. These are two great teams and when you play a great team, you have to minimize your mistakes. We didn't do that."
Both clubs advance to the Ada district at Ohio Northern on Thursday.