Thursday, May 22nd, 2014
Wildcats win marathon contest over Indians, Crestview beats Marion Local in nightcap
Division IV District Baseball
By Gary R. Rasberry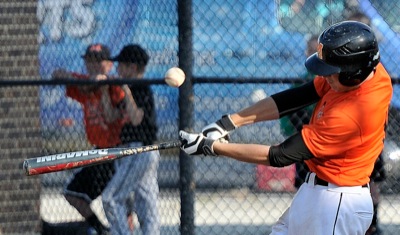 COLDWATER - After playing eight innings the first time they met, Fort Recovery and Minster decided to work overtime again at the Division IV district baseball tournament on Wednesday in Coldwater.
Josh Nixon's two-run triple in the top of the 10th sent the Wildcats into the district title game with the 5-3 win over the Indians.
Minster (17-12) will take on a familiar foe in Crestview at 7 p.m. on Friday. The Knights (18-6) defeated Marion Local 8-1 in the nightcap at Veterans Field. The Wildcats beat the Knights 10-0 during the regular season.
Minster 5, Fort Recovery 3 (10 innings)
The Wildcats gained control in the top of the second inning. Max Huber led off with a single. Two outs later, Jacob Wuebker was hit by a pitch by Jackson Hobbs to bring up Josh Nixon, who lofted a fly ball that carried over the head of Indians' center fielder Elijah Kahlig for a double, scoring Huber and Wuebker. Brandon Hoying followed with a single to bring home his catcher to make it 3-0.
Fort Recovery was able to get runners on against Hoying in the first three innings but could not bring them around.
That changed in the fourth. Jacob Muhlenkamp started the rally with a one-out walk. After pinch-runner Nick Litmer went to second on a wild pitch, Hobbs brought home the run with a single. Kent Retz followed by reaching on an error. Hoying struck out Kyle Schroer, but Derek Backs cleared the bases with a double to tie the game.
The teams each had chances to go ahead over the next five innings, but good pitching and big defensive plays prevented scoring.
"Maybe we should just schedule Minster for a doubleheader and be done with it," joked Indians coach Jerry Kaup, whose team lost to Minster 1-0 in eight innings earlier this season. "I told (Minster coach) Mike (Wiss) 'I'm trying to live to 100, what are you doing?' "
Both teams had solid relief work. Drew Ripploh came on to pitch in the fifth and threw three scoreless innings. After Ripploh walked Muhlenkamp to start the eighth, Wiss brought on Matthew Trushaw, who retired the next three batters to end the inning and then worked out of a jam in the ninth, with Wuebker making a diving catch for the third out.
"Big handshakes for the three guys who toed the rubber today," Wiss said. "Brandon threw well. Drew came in (during) the middle (of the game) and after the walk, Matthew came right in and threw strikes."
Hobbs went five innings before giving way to Retz, who pitched four full shutout innings.
"Jackson did not have his best stuff tonight. He's pitched better," Kaup said. "That's pitching. He made some good pitches."
In the top of the 10th, Retz walked Huber. Kaup wasted no time in bringing on Cole Wendel. After getting Trushaw to ground into a fielders' choice, Brad Walterbusch singled to put two on. Kaup came back out to bring on Kahlig, who struck out Wuebker to get to Josh Nixon. Nixon drove the ball deep to right, bringing home both runs as Nixon safely reached third for the triple. Kahlig ended the inning by striking out Peter Falk.
"Josh needs a big handshake for the triple in the 10th," Wiss said.
Trushaw had no issues in the bottom of the 10th to get the win, striking out Blake Boughman and then enticing Muhlenkamp to ground out to third before Hobbs ended the game with a pop out to Hoying at shortstop.
"We started out 1-7 and went 16-5 since," Wiss said. "We're not pretty and don't do a lot of things flashy, but we battle."
"It was a great game. Both teams played a high level of baseball," Kaup said. "I can't fault my kids. I think they tried hard. That's how baseball is. I don't think we should hang our heads."
Josh Nixon went 4-for-6 with four of the five RBI for the Wildcats. Older brother J.R. Nixon and Huber each had two hits.
Stammen had two hits for the Indians, who end their season with a school record 20 wins and five losses.
Crestview 8, Marion Local 1
The Flyers drew first blood in the top of the first off Knights' starter Adrian Camp. Duane Leugers and Blake Benton got the rally going with back-to-back, one-out singles, followed by Nick Heitkamp getting hit by a pitch. Austin Albers brought home Leugers with a groundout.
Crestview wasted no time in taking over, scoring four times in the bottom of the first. Damian Helm, who was named the Northwest Conference Player of the Year on Wednesday, singled in Cam Etzler to tie the game. Jordan Roop followed with a triple to score helm. After Cole Griesdorn got an out, Isaiah Simerman tripled in Roop. Simerman later scored on a Bryce Richardson sacrifice fly.
"Crestview hit the gaps," said Flyers coach Dustin Woods. "We didn't hit the gaps early with runners on. We get a couple gap shots, it's a different ballgame. That's just baseball for you."
Griesdorn allowed a run in the third before Crestview scored three times in the fourth to put the game away. Roop did the damage with a bases-loaded double.
Camp allowed six hits in the game, but from the fifth inning on he allowed just one base runner when Cory Heitkamp was hit by a pitch. The Flyers had a good chance to score in the third when a throwing error put runners on first and third with one out. Camp got out of trouble by enticing Peyton Kramer to ground into a 6-3 double play to get out of the inning.
"You have to give Crestview credit. That's a good ball club," Woods said. "They hit pitches. They'll hit a pitcher's pitch. If we miss (on a pitch), they'll hammer it.
"I think our guys hit it right at them," continued Woods. "They usually came up with a big pitch or big play with runners on."
Roop went 3-for-3, falling a home run short of hitting for the cycle, with four RBI. Helm and Simerman each had two hits.
Leugers went 2-for-4 to lead the Marion Local (12-16) hitting attack.