Thursday, May 22nd, 2014
Titans outlast Panthers
Division III District Softball
By Colin Foster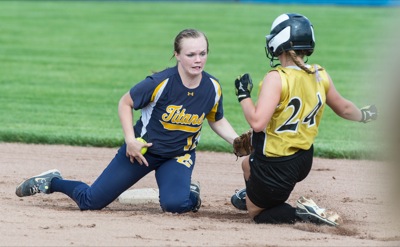 BATH TOWNSHIP - Ottawa-Glandorf's Megan Kitchen and Parkway's Sierra Fent didn't intend to allow many base runners.
So capitalizing with runners on base was crucial for both teams.
The Titans took advantage of their chances with runners on and shut the door on the Panthers behind Kitchen's arm and solid defense en route to a 4-1 victory over Parkway in Wednesday's Division III district semifinal game at Bath High School.
"They earned it," Parkway coach Mark Esselstein said. "We just didn't get a real good feel for hitting off Kitchen. I think we only had one base hit. She does a good job of moving it around. When we got walks, when we got hit by a pitch, we needed to capitalize, and we didn't do enough of that."
A walk, a hit batsman and an error loaded the bases in the bottom of the fourth - and the first hit of the game by Tasha Cass plated a pair of runs to give the Titans a 2-0 lead. On the next at-bat, Katelyn Kaufman's infield single scored another.
The Panthers got one back in the top of the fifth. Kayle Heckler walked and stole second to open the inning, and then Parkway's first hit by Terra Walls made it 3-1. Walls advanced to second on the throw home, but she was stranded there after center fielder Emily Annesser dove to rob Zoey Pond of a hit and Kitchen struck out the final batter to end the inning.
"I think the biggest thing in the game was O-G's defense ... Four or five balls that normally are going to give you runners on base, they made plays and got the outs," Esselstein said. "It wasn't just that they stopped them; they finished the plays and got the outs.
"Center fielder (in) the one inning we scored makes a diving catch. If that falls, that's another run. It's 3-2 and the momentum changes."
The Titans added another run in the home fifth. Lindsey Prichard and Kitchen had back-to-back hits to open the inning. O-G later scored on one of Parkway's two errors on the day.
The Panthers went down 1-2-3 in the sixth and left one stranded in the seventh.
Kitchen allowed just one hit and had four strikeouts in seven innings of work.
Fent finished the game with two strikeouts and gave up four hits.
O-G advances to face top-seeded Sherwood Fairview in Friday's district final.
Parkway ends the season at 15-6 and loses three seniors in Fent, Ashlynn Henderson and Rachel King.
"They've had great careers," Esselstein said. "They've done a great job of being leaders and teaching the younger kids, whether it's going through our progressions or swinging the bat. They can really be coaches at practice, in games and on the field. They've done a really good job of embracing the program."