Friday, May 23rd, 2014
Mercer County library director starts new chapter in life
Schneider steps down after long career
By Shelley Grieshop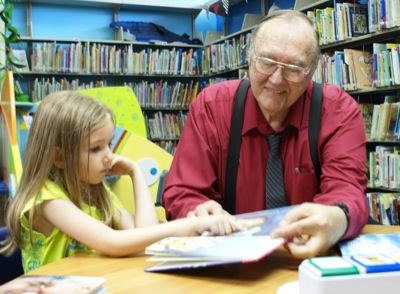 CELINA - Austin Schneider's childhood home in Michigan was a mere two blocks from the local library where he sat and read for hours.
One of his favorite books was a large novel about George Washington.
"I'd open the book and it had this repeating, fly leaf pattern," said the 69-year-old. "It was just a big book but for some reason it caught my eye."
Schneider has spent the last 42 years as director of the Mercer County District Public Library in Celina, where he shared his passion for reading with thousands of patrons. He officially retired May 14 but will continue serving as a part-time fiscal officer.
The public is invited to a retirement reception in Schneider's honor 6:30-8:30 p.m. May 29 in the library's community room.
Elizabeth Muether, who graduated from Kent State University in 2012 with a master's degree in library and information science, has been appointed acting director. She has worked for the library for 24 years and held the post of assistant director the past 16 months.
"I owe so much to Mr. Schneider and the board for giving me this opportunity," she said. "I want him to know I will continue to serve the library with the same kindness and generosity that he has for the past 42 years."
Muether said she shares the same vision for the library as Schneider - "to serve the community the best we can."
Schneider told the newspaper part of his decision to retire was medical; he received a pacemaker in December.
"I've been mentoring a replacement (Muether) for years," he said. "It's time."
The duties of a library director are many, he said.
"Everything, really. Scheduling, budgeting, building management ... . I've been called the 'go-to-guy,' " he said.
The library on Main Street measured 8,900 square feet when he was hired. Several renovations later, it spans about 28,000 square feet, he said. Its annual budget has grown from $55,000 to about $1 million during his career.
The village of Mendon was the county's only branch library when Schneider began his tenure at the age of 26.
"It was just one room in the town hall," he said.
The county now also has branch libraries in Chickasaw and St. Henry.
Schneider holds a master's degree in arts and library science and a bachelor's degree in science. He's seen many changes take place but none as drastic as the advancement in technology.
"There was a time that libraries wouldn't give up their card catalog system for anything," he said. "Now they're almost nonexistent."
Patrons seeking specific publications or information now search on one of the library's computers or access its website at www.mercer.lib.oh.us/info from any computer.
Encyclopedias and magazines - once the most requested resources in every library - are virtually obsolete. Most are now accessed online, he said.
"A donation of a set of encyclopedias that once cost $3,000 are sometimes sold during our book sale for $20, Schneider said.
The changes in technology prompted the library to move in another direction and expand its educational programs "with an extreme emphasis on children," Schneider explained. Story hour, summer reading programs, craft sessions and other events keep residents of all ages coming through the door.
"I do believe our role is changing, but there's still things in the library you can't get over the Internet, such as face-to-face contact," he said.
Schneider believes the library will always provide a haven for "voracious" readers like him and his wife of 46 years, Kaye. He still borrows books from the library, but George Washington has been replaced with subjects like carpentry, welding and machines, he said.
Reading just totally absorbs you," he added.