Friday, May 23rd, 2014
Bulldogs, 'Riders fall in district semifinals
Division II District Baseball
By Colin Foster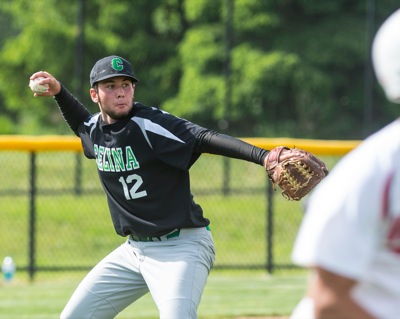 BLUFFTON - The Celina and St. Marys baseball teams came up on the short end of the stick in the Division II district semifinal round Thursday at Bluffton University's Memorial Field.
Wapakoneta came from behind to beat Celina 4-3 in the second game, while the potent offensive attack of St. Marys was held to just four hits against Bath ace Colin Gossard in the first game, as the Roughriders' season came to an end with a 3-0 loss.
Wapakoneta (19-9) and Bath (21-8) will face off in the district final Saturday at 2 p.m.
Wapakoneta 4, Celina 3
The Redskins took a 1-0 lead on the Bulldogs in the first inning on Chandler Kaeck's RBI single, but Celina responded by scoring three runs in the third.
Jimmy Luebke's suicide squeeze bunt scored Seth Lonsway to knot the score at 1-all and then Cody Vogel's double scored Kaleb Kuhn to give Celina the lead. Later in the frame, Vogel trotted home on an error to put the Bulldogs in front 3-1.
After giving up three hits in the first inning, Celina ace Kuhn found his groove on the hill. He had three straight 1-2-3 innings, before the fateful fifth.
Kuhn walked a batter with one out, forced a groundout for the second out, but an error loaded the bases for Chace Culver, who connected on a bases-clearing double on an 0-2 count.
"That's what happens when you get to this level. When you're facing good competition, you can't make any mistakes," Celina head coach Andy Mikesell said. "Even though these last two games have been the best baseball we've played all year, it was just that one mistake. Give Culver credit, that was a bad pitch to swing at on his part, and he ropes a double in the gap,"
Culver, who pitched a complete game, four-hitter, kept the Bulldog' bats quiet the next two innings. Celina managed to get two runners on in the seventh, courtesy of an error and a walk, but it stranded the runners on consecutive fly outs.
"We felt like we should have won, but that's baseball," Mikesell said.
Kuhn scattered five hits, struck out four and allowed one earned run over six innings.
Celina finishes the season with a record of 13-15.
"I think coming in, we were the hot team right now. Everything was starting to click for us, and Kaleb had a big part to do with that," Mikesell said. "We kind of lived and died a little bit too much by him. But we came out and started to hit the ball against some pretty good pitchers, against (Tiffin Columbian) and Culver here. We had it clicking. It just kind of (stinks) that it all ends when you get it going."
Bath 3, St. Marys 0
Gossard had every pitch in his repertoire working against the Roughriders.
The Bath pitcher was the story of the early game as he recorded eight strikeouts, walked none and completely tamed the high-powered Roughriders offense to help the Wildcats avenge a 3-2 extra-inning setback to St. Marys from earlier in the season.
"He threw really excellent," St. Marys coach Jeff Dieringer said. "If he throws like that, I think they've got a decent chance to go really far."
Eric Heffner led the top of the first with a single and later scored on an RBI hit by Gossard. The Wildcats went up 2-0 on Heffner's bases-loaded infield single in the fourth. Eric Jordan led off the fifth with a double. His pinch runner, Luke Niebel, added an insurance run when Cam Clark came up with his third hit of the game.
The hit spelled the end of the day for St. Marys starter Nathan Wilker, who lasted 4 2/3 innings. Zack Wilker finished the job on the hill and allowed no runs.
St. Marys' Tristan Becker and Mason Gross had back-to-back hits with two outs in the fourth. The duo moved into scoring position, but Gossard averted the threat by recording his third strikeout of the inning.
"I thought at the plate we had a decent approach for the most part of the day," Dieringer said. "We hit a few balls hard that were right at guys. We didn't get a lot of breaks that way. But when you wait until two outs, it's always tough go get that hit."
Nathan Vogel led St. Marys at the plate, going 2-for-3, while Clark and Heffner each had three hits for the Wildcats.
The Roughriders end the season with a record of 19-6 in Dieringer's first year as coach.
"(The team) had a lot of guys, 22 guys, who just accepted their role," Dieringer said. "There are some guys who didn't get a lot of playing time, but they accepted that role, maybe it was as a closer or maybe it was as a long reliever. When you've got guys like this who all want to row in the same direction, you can do a lot. They proved that if you have enthusiasm, if you work hard, you can go a decent way, and I'm proud of what they've done. I'm especially proud of the seniors."