Saturday, May 24th, 2014
A place to call home
Lots for Soldiers organization constructing house for military member, his family
By Doug Drexler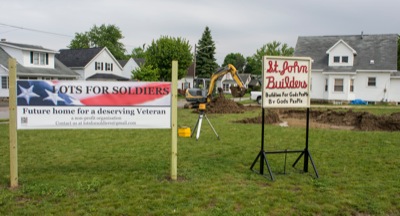 MONTEZUMA - Military members are sometimes bounced all around the globe, but one local sailor and his family will soon have their own home base.
Ron and Erica Cooper and their children, Trent, 2, and Scarlett, 7 months, were recently chosen to be the first family to move into a Lots for Soldiers home in Celina.
"We're very excited about it. We drove past the site today. It looks like the digging's done," Ron Cooper, a U.S. Navy veteran and current reservist, said earlier this week.
"We're super excited. How can you not be?" added his wife, as Scarlett climbed happily over Trent, who was entranced with Erica's smartphone on the floor at her feet.
The family has been renting half of a duplex in Montezuma since last July. A co-worker told Erica about Lots for Soldiers earlier this year, and they decided to apply.
"I don't think we had too high of hopes," Ron Cooper said. But his father told him it wouldn't hurt to write down a few words. "We're very glad about that" advice, he said.
Now they're getting over the shock of learning they were chosen.
"I think we're still a little overwhelmed," Erica Cooper said. "It's so nice I can't wait to pick out paint colors and have a dog if we want to have a dog.
"It's really hard to put into words," Erica added. "Thanks for the home I'm going to raise my kids in ... how do you do that?"
"We're very happy about it," Ron Cooper said. "They're very big about family. That's important."
Ron served five years, rising to the rank of Petty Officer 2nd Class in the active Navy based in Norfolk, Va., and Gaeta, Italy. He served mainly on the USS Mount Whitney, the flagship for the Second Fleet, he said.
The family was chosen due to Ron's service and passing through an application process and personal interview, said Homer Burnett of Lots for Soldiers.
"He served honorably in the Navy and is a member of the Naval Reserve," Burnett said. "They are a very upstanding couple - dedicated family and worthy of our help."
Burnett's group formed in February to help active or retired military members get homes at the lowest possible cost. It purchased the lot at 501 W. Warren St. from the city earlier this year for $13,500.
"We just wanted to honor those that honorably served in the military of the United States," he said.
After learning no one from Mercelina Mobile Park qualified and needed the help, the group sought applicants. Four families applied to the seven-member board, Burnett said. One other veteran qualified for a home but decided against moving from Coldwater to Celina.
The group is taking its time before selecting a family for a home on the remaining lot, Burnett said.
"We're not getting real serious about it, yet," he said, though the group hopes to house another family within the next couple of years. His board has had a steep learning curve, he added.
"I've never done anything like this before. I didn't know what to do, let alone how to do it," he said. "We couldn't have done this without St. John Builders."
St. John Builders provided lots of expertise in the construction process and wanted to help with this home, Burnett said.
"They're giving us (the opportunity for) a lot more input than we thought," Ron Cooper said.
The family, which will financially contribute what it can to the project, has been involved with choosing everything from the floor plan to the flooring, he said.
One great feature is that the home will have three bedrooms and the children will have separate bedrooms, Erica Cooper said. She's already planning to paint Scarlett's room pink.
They also hope to add a swing set and sandboxes in the backyard. The young mother said she has noticed other families in the area also have young children.
Burnett said his board members were unsure if they'll develop more than the two homes.
"Depending on the need and support, we'll continue," he said.
Regardless, board members will continue to work with the Mercer County Veterans Service Commission to find other ways to help local veterans, he said.