Saturday, May 24th, 2014
By Robb Hemmelgarn
Minster girls heading to regional tourney
Division IV District Softball Final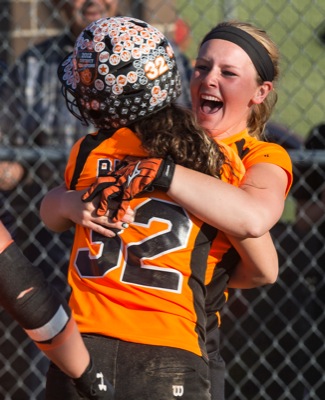 WAPAKONETA - After winning their first two meetings of this postseason by an average score of 15-0 in just five innings, Minster decided that they needed to give their fans their money's worth at Friday's Division IV district championship softball game at Wapakoneta.
The Wildcats initiated a come-from-behind effort in the seventh inning to tie the game at 5-5 before locking down the victory in the bottom of the ninth frame on an unusual illegal play during an intentional walk attempt to advance to regional tournament with the 6-5 triumph.
Minster (24-3) is back in action at 5 p.m. Thursday at Tippecanoe Middle School in Tipp City against Felicity-Franklin. The Cardinals defeated Fort Loramie 6-3 at the Brookville district final.
"We knew tonight that it was going to be important to get early runs because Crestview would be a challenge," Minster coach Scott Robinson said. "They have state championship experience and they are very fundamentally sound. Our strength is normally to keep scoring after picking up runs early and we didn't do that tonight, but I am very thankful to get out of here with a win and keep playing."
Kristin Hicks came on in relief of starter Terra Crowle in the ninth and she promptly struck out Kathy Prenger to get things underway. Kayla Richard stepped in next and reached on an infield throwing error before Rachel Heckaman headed to first after getting drilled in the knee. Then Marissa Conrad lined a shot to third base for the second out, but in the attempt to double up Richard at second, the ball sailed into the outfield.
With two outs and runners at second and third in the ninth, the Knights elected to intentionally walk Michaela Goettemoeller, which unlike high school baseball must be pitched. On the second offering, catcher Mackenzie Riggenback stepped out past the batter's box prior to the pitch, which is not permitted. The umpire signaled the infraction and told Richard to come home and that sent the Wildcats into the regional tournament for the second time in three years.
"Terra is an outstanding pitcher. She won state two years ago," Robinson said. "Too many times tonight, we came out and just didn't get the job done in the early going. We stranded runners on third base three or four times tonight and normally we get that run home, but tonight we didn't. I give a lot of credit to Crestview. Terra pitched a great game, but it is nice to be moving on."
The Knights drew first blood in the top of the second when Brady Guest reached on a double before scoring a few moments later on a single by Tianna Rager.
Crestview held its edge until the home half of the third when Kathy Prenger, Richard, and Heckaman all singled with no outs. Conrad, who finished the night with three hits, situated herself in the batter's box and calmly boomed a triple toward the outfield fence, pushing her team in control, 3-1. The next batter, Goettemoeller, followed with a single which plated Conrad and gave Minster a three-run cushion.
"Marissa had a great game for us and has had an outstanding season," praised Robinson of his senior third baseman. "She is hitting close to .600 right now and tournament has been when she is hottest. Without her hit in the third, we couldn't have come out on top tonight."
Crestview answered on their next turn at the plate when Terra Crowe connected on a two-out double and she was soon plated with Rager's second RBI of the night. The Wildcats' two-run command held until the sixth inning when the Knights scored the tying run, courtesy of three base hits in the inning.
Things remained tangled in the scoring column at four until Crestview enjoyed their first lead of the night at 5-4 when Kirstin Hicks blasted a two-out triple, before being squeezed home a couple of minutes later.
Down to their final two outs in the seventh, Rachel Heckaman reached with a single and quickly scooted to second on a passed ball. The senior shortstop soon raced home on a Crestview throwing error following a hit by Conrad, evening things up at five.
Although the Knights loaded the bases with two away in the eighth inning, Richard struckout Hicks to squish the threat. The Wildcats went up and down in order in the their half of the inning and the marathon game rolled into the ninth. Richard kept things in check as she retired the side to afford her team yet another chance to stir something up.
Heckaman finished with two hits and two runs scored, while Richard finished with five strikeouts.
Additional online stories for this date
Print edition only stories for this date
• Zuma man faces 78 counts for child nudity
• Months-long drug probe produces 10 indictments
• No injuries reported in Rockford-area home fire
• Knights end Wildcats' season
• Carr wins three district events


Online Video

Photo Albums
Friday, August 29

Friday, August 29

Friday, August 29

Friday, August 29