Thursday, June 5th, 2014
Ferguson debuts Celina facility
Gov. Kasich plugs local area at ribbon cutting
By Shelley Grieshop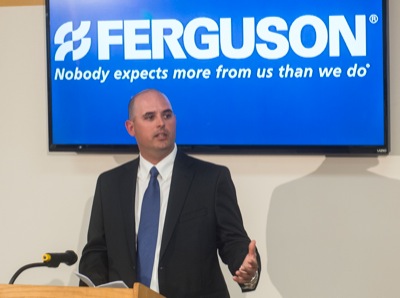 CELINA - They came, they saw, they stayed.
That's how plumbing supply giant Ferguson Enterprises chose to invest more than $15 million in a distribution center east of Celina, according to Ohio Gov. John Kasich.
"The community sold itself and here they (Ferguson) are," he told The Daily Standard following an official ribbon cutting ceremony Wednesday afternoon at the new 350,000-square-foot facility.
The governor credited local residents and community leaders for luring the business that, to date, has hired 65 people - the majority from the Grand Lake area.
"Well, for one, the people, I think the people (in this area) are number one. Two, it's a good location," he said. "I mean we're business friendly and the people get it and you put all that together and proof's in the pudding."
Don Swain, manager of real estate development for Ferguson, discussed the task that began two years ago to find a suitable site for the distribution center.
"We cast our net out ... we received 73 possible sites back from three states," he said.
The number was reduced to 22 and later to three after visits, cost evaluations and community attitudes were analyzed, he said.
"Celina won hands down," Swain said.
Also present for the grand opening of the facility at the intersection of state Route 29 and Harris Road were JobsOhio managing director Aaron Pitts, Mercer County Commissioners, county and Celina officials, community leaders and several dozen Ferguson employees.
Pitts said the company's new presence in the state speaks volumes.
"This project is particularly meaningful for Ohio, I think for a couple reasons," he said. "Ferguson teams are saying we believe in Ohio. I think it also validates what many of us know and that is that Ohioans are among the world's most productive and creative people and you will be rewarded for this decision."
Pitts said the company won't regret its new venue.
"So, Ferguson team, I do not think you could not have done better than to land in Mercer County. People are tremendous here," he said.
The sprawling facility - which began shipping products a month ago - is the first distribution center built by Ferguson in the Midwest. The company has 11 others in the U.S. and Canada that stock more than 80,000 different products and employ more than 1,000 associates.
Ferguson - the largest wholesale supplier of residential and commercial plumbing supplies in the U.S. - was founded in 1953 and is headquartered in Newport News, Va. The company boasts $10.6 billion in annual sales.
The local distribution center operates two shifts and will serve Ferguson branches and customers in seven surrounding states.
Business already is booming at the new facility; the 45-foot-tall racks in the shipping area are filled to capacity with items from bathroom faucets to kitchen ranges, employee John Huber said during a tour.
"You might notice all the walls are made of concrete except this (west) wall," he pointed out. "That's because we can easily take it down when it's time to expand."
Every day more than 30 trucks of all sizes arrive and leave the new location, officials said.
The distribution center is Ferguson's first Leadership in Energy & Environmental Design-certified facility, general manager David Simons said. It uses all LED lighting, high-frequency chargers for equipment, motion sensors and other environmental friendly measures, he added.
Prior to the ceremony, Simons told the newspaper the county's low 3 percent unemployment rate did not hamper efforts to fill jobs.
"It was the exact opposite; they (workers) were easy to find," he said, adding the effort was simplified with the help of Hometown Opportunity, an online resource that helps match employers with employees. "It made my job extremely easy. We had quality resumes, people with great experience."
Ferguson received about 600 applications prior to opening its doors, officials said.
Simons said Jared Ebbing, the county's community development director and the driving force behind Hometown Opportunity, has been a huge asset to the company. He even supplied signage posted in the shipping areas to help keep truck drivers on locally designated routes, he added.
Ebbing told the crowd the Ferguson project was "a huge team effort."
"It's a big, big team effort for the Mercer County region to pull this off," he said.
Ebbing said he met with Swain more than two years ago for a chance to "tell our story" and explain what the local region had to offer.
"For us to be able to show who we are ... is what we wanted the opportunity to do," he said.
Ferguson CEO Frank Roach was not present Wednesday but issued this statement: "We are very excited that our new Celina distribution center is now up and running. Mercer County has welcomed us with open arms and we are proud to add 70 community members to the Ferguson family."
Jeff Hoagland, president and CEO of the Dayton Development Coalition, said the new facility is the result of a successful joint venture.
"This collaboration with Mercer County shows the impact of working together to create jobs, secure capital investment and grow the economy of our region," he said.