Saturday, June 7th, 2014
Mestemaker, Kramer bring home state championships
State Track and Field Championships
By Bruce Monnin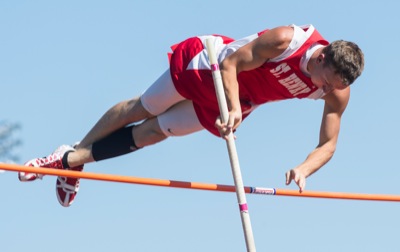 COLUMBUS - As Friday's portion of the state track meet wrapped up in the early evening, two local athletes emerged late to earn state championships in their individual events.
Marion Local's Gina Kramer was winning the Division III high jump on one end of the track at Jesse Owens stadium, while not long after St. Henry's Kevin Mestemaker was winning the Division III pole vault on the other end of the stadium.
Last year, Kramer came about as close as you can come to winning a state championship. Gina and her opponent had both been successful at 5-feet-4, but Kramer had done so with fewer misses. That meant if both failed to clear 5-5, Gina would be the champion. Kramer's opponent missed her first two attempts, but on her final try she succeeded and relegated Gina to second place.
This year, Kramer had made 5-51/2 during the regular season, but since had been stuck at the 5-4 mark. Friday looked a little shaky at first, as Gina missed her first attempts at both 5-3 and 5-4. With the field now down to four competitors, Kramer also missed her first try at 5-5. However, on her second jump she looked much stronger and more confident as she succeeded.
Kramer, Wynford's Amber Gottfried and Fredericktown's Carolyn Webster all cleared 5-6 but Kramer was the only girl to get over the bar on her first attempt, tying the school record held by Marianne Wuebker.
"My coach says I often jump better at higher heights," Kramer said. "I knew it was going to be tougher this year. But it was shocking when the other two girls also made 5-6."
All three girls missed at 5-7, giving Kramer the title that she just missed last season
"This is the best way to go out as a senior," Kramer said. "It is a great feeling. Indescribable."
In the boys' pole vault, Mestermaker and Minster's A.J. Huelsman looked to reach the podium.
Huelsman finished in fourth place each of the last two years, but this year suffered a late season injury and had been fighting to survive each week instead of competing for the win. Huelsman still seemed out of sync Friday, as he topped out at 13-4, good enough to finish in eighth place and claim the final spot on the podium.
"This wasn't my goal at the start of the year," admitted Huelsman, "but considering everything I am happy to make it onto the podium."
In contrast, Mestemaker was in fine form, possibly due to switching to a bigger pole during practice this week. Mestemaker completed the heights through 13-8 without a miss. He knocked down the bar on his first attempt at 14 feet, then tied a personal and school record when he cleared 14-4 on his first try.
Four vaulters remaining in the competition when the bar was raised to 14-8. Mestemaker missed his first two attempts with one change remaining.
"I just decided to go all or nothing," Mestemaker said in describing his final attempt.
Mestemaker's form on his third attempt was not what you would call picture perfect. Instead of going straight over the bar, he went a bit sideways towards the left, but somehow got over the bar, brushing it lightly on the way down. The bar stayed in place and Mestemaker was still alive.
At 15 feet, Mestemaker performed almost a carbon copy of his previous vault. Again the bar refused to fall. Mestemaker controlled the tiebreakers as Seneca East's Zach Gregg needed two tries to match Mestemaker.
The bar was next moved to 15-4, a foot higher than Mestemaker's career best. Mestemaker missed all three of his jumps as he waited to see if Gregg could clear the mark. Gregg missed badly on his first try, but on his second clearly had the necessary height before knocking the bar off on his way down.
"I was pacing," was how Mestemaker described his feeling watching his competitors' third and final attempt.
Gregg's final attempt was unsuccessful, giving the title to Mestemaker. The smile which appeared on his face lasted through many individual celebrations with family and friends and through the podium ceremony.
"After about 13-4, the adrenaline rush just kicked in. I knew it was my last time to jump in my career," Mestemaker said. "Right now I am so happy I can't think."
Division III Girls' Pole Vault
Minster's Maria Heckman and Marion Local's Olivia Hemmelgarn completed round four of their postseason duel in the pole vault. Hemmelgarn had participated in the state pole vault competition each of the last two years, finishing 10th in 2012 and fifth in 2013. Heckman was new to the state meet.
Both girls had cleared 11-2 last week to tie for the second best regional performances of the field at the state meet.
Hemmelgarn admitted she was a little worn out during her early attempts, which took place after she ran a leg of Marion's 4x400-meter relay, but the adrenaline of the competition kicked in. Hemmelgarn had a scare when she missed her first two attempts at 11 feet, but she achieved a season best when she was successful in her first attempt at 11-4. Hemmelgarn was one of only five athletes remaining in the competition at that time, so when she hit the bar on her way down on her third attempt to clear 11-8, she finished with the same fifth spot on the podium she achieved last year.
"Making 11-4 was awesome," Hemmelgarn said.
Meanwhile, Heckman was rolling through the event, missing only one time through 11 feet. On her second try at 11-4, Maria lightly hit the bar which wobbled, but stayed up. The same was repeated on her first attempt at 11-8.
"I will admit it was a little bit of luck," Heckman said, "but getting to state after not qualifying last year was amazing."
When Heckman set a new personal record in her first try at 11-8 and had the tiebreaker advantage should no one go any higher, Two of her competitors cleared 12 feet, relegating Heckman to third place.
Division III Boys' Shot Put and Discus
Minster's Wes Hegemann competed in both the shot put and the discus. In the shot put, Hegemann had a throw of 51-2 in the preliminaries to earn himself a spot in the finals. Hegemann increased his mark with a throw of 51-8, only one inch short of his personal record, finishing ninth.
In the discus, Hegemann's best throw in the preliminaries was 147-6 not enough to advance to the final round and finished 10th.
Division III Girls' Shot Put
Minster freshman Savanah Luthman finished 11th after her top throw of 36-61/4 left her out of the top nine that went to the final round.