Saturday, June 7th, 2014
Teen's Eagle project will help scout the sky
By Shelley Grieshop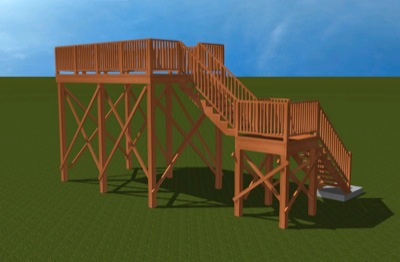 MONTEZUMA - Trevor Schmehl set a towering goal to attain the rank of Eagle Scout.
It's a 12-foot-high goal, to be exact.
The Memorial High School freshman is building an observation tower in the heart of Gilliland Nature Sanctuary east of Montezuma.
"I love the outdoors," said the 14-year-old, adding he chose the location because it's about 800 feet from an American bald eagle's nest. "We live by the lake, and I sometimes see them flying around."
The teen's proud parents, Bruce and Carol Schmehl, said many others will benefit from the project since the venue near Club Island is open to the public. The family visited the Gilliland Nature Sanctuary for the first time this year.
"I thought it was really neat," Trevor Schmehl added.
The tower will have a 10-foot-by-16-foot platform. Schmehl worked out the design with Jason Dorsten of Fort Recovery Lumber Co.
The cost of the project is about $3,000, and most of the funds already have been raised through donations. However, Schmehl said he'd like to add a bench and perhaps other enhancements if additional money is available. Donations can be made by calling him at 419-394-6125.
The entire project must be completed with donations and volunteers per Eagle Scout requirements. Plaques honoring donors will be placed on the observation deck, Schmehl added.
Concrete for the foundation was poured a week ago. Construction will begin after a two-week waiting period, the teen said.
"We have all the lumber ordered and will probably start construction next weekend," he said. "I hope to finish by the end of the summer."
He confidently noted his role is project leader, supervisor and manager. Physical work isn't the only requirement. He must raise money for all expenses and speak to groups such as the Lima-area Audubon Society, which offered to donate.
"I'm fine talking to small groups, but it's harder with bigger ones," he said.
Schmehl became a Tiger Scout in first grade and has continued his involvement in the organization since. He is a member of Boy Scout Troop 138 of St. Marys.
Abbey Tobe, coordinator of the Grand Lake/Wabash Watershed Alliance, said the Franklin Township Greenspace Committee met earlier this week to discuss the proposed observation tower.
"We are all excited to bring some attention to Gilliland Nature Sanctuary and Trevor Schmehl's project," she said.
Steve Dorsten, a committee member, said Schmehl already made a presentation to Franklin Township Trustees, who maintain the sanctuary.
"They approved the project and gave him a $1,000 donation," he said.
Dorsten said the tower will improve the setting, which includes prairie grass, trails, woods and "lots of wildlife."
"It will enhance the whole area with easy access from the road and the parking lot that's right there," he added.
Schmehl - a very motivated young man - said he's contemplating a career as a chemical engineer. But for now, Scouting is his passion.
"I've always wanted to be an Eagle Scout," he said. "I like helping people and have always enjoyed being a Scout."