Monday, June 9th, 2014
Cavaliers bring home sixth state title
Division III State Baseball Championship Game
By Gary R. Rasberry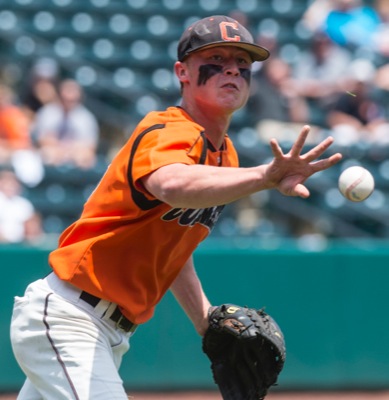 COLUMBUS - It's been 22 years since Coldwater has hoisted the state championship trophy in baseball.
The current group of Cavaliers made sure that streak stopped on Saturday.
Coldwater scored three times in the top of the first inning and added one more in the third to claim the program's sixth state baseball championship with a 4-2 win over Cincinnati Hills Christian Academy in the Division III state final at Huntington Park in Columbus.
Coldwater finishes the season at 30-4, the eighth time in school history the Cavaliers have won 30 or more games in a season. The championship is the first since 1992.
"It feels awesome," said Cavaliers coach Brian Harlamert, who won two state titles as a Coldwater player in 1987 and 1990. "Twenty-two years since we've had a championship in baseball. It's my fifth time coming here (as coach). Getting number six means so much to me, our coaching staff, players and fans. It's awesome."
"We haven't been able to do it in forever," senior pitcher/left fielder Grant Muhlenkamp said. "Dreams come true, I guess. We've been chasing it through four years of high school. It's just something special for us."
Brody Hoying led off the game by reaching on an error. Drew Otten bunted his teammate to second and Malave Bettinger walked. After Blake Swanger struck out Mitch Heyne, Muhlenkamp tripled in the runners to make it 2-0, the first runs allowed by the Eagles in the postseason. Adam Klosterman followed with a single to score Muhlenkamp.
"That was huge," Harlamert said of the quick start. "Brody gets on base to make things happen. Get two outs and get two clutch hits."
In the third, Bettinger reached on a one-out single. After pinch-runner Kraig Schoenherr went to second on a wild pitch and then to third on Swanger's second balk of the day, Heyne lofted a deep enough fly to center to score Schoenherr to make it 4-0.
Muhlenkamp, who threw 41/3 innings of relief in Thursday's 10-inning win over Wheelersburg, looked sharp on a day's rest, getting a double play fromhis defense in the second to get out of one jam. CHCA scored one in the third on a RBI single by Chase Murray that scored Jon Eldelmann.
In the fourth, the Eagles began to tune up Muhlenkamp with back-to-back singles, but Muhlenkamp got Daniel Vezdos to ground into a 4-6-3 double play to end the threat.
"I was feeling good," said Muhlenkamp, who threw 54 pitches (35 for strikes) in his five allotted innings. "I knew it was going to be my last five innings, so I decided to go out with a bang as best I could. It got the job done."
Derek Thobe, who started the state semifinal and went 5 2/3 innings, came on to get through the final two innings. Just like Muhlenkamp, Thobe showed no signs of wear. Ricky Silverstri greeted Thobe with a leadoff single, but Thobe retired three straight outs to get out of the jam.
CHCA (29-3) made things interesting in the seventh as Jon Edelmann led off with a single. Thobe recovered to get two straight fly outs to right and left, respectively, before Chase Murray, who went 3-for-3 and drove in both Eagle runs, singled to put runners on the corners for Kyle Davis. Thobe needed just one pitch for Davis, who popped it up in front of the mound. Thobe snagged the ball for the final out as his teammates on the field celebrated with the teammates coming from the dugout.
"It was like forever," Thobe said of the hang time on the pop fly. "It felt like it didn't come down for 20 minutes."
"I said before the game the best team will win," said Harlamert. "I think the best team won and played with heart and passion."
Swanger, who will pitch at West Virginia next season, allowed just one earned run as the Eagles committed four errors. Swanger scattered five hits and struck out nine in his 120-pitch (85 for strikes) effort.
For Harlamert, the joy of winning his first state title as a coach at his alma mater was immense, but it was something cherished as a team.
"I've said all along, it's not about 'me', it's about 'we' and 'us'," said Harlamert. "It's what Coach B (longtime Coldwater coach Lou Brunswick) taught us a long time ago; how you play the game and how you coach the game. Our players totally agree with that."