Monday, June 9th, 2014
Wildcats fall in close game
Division IV State Softball Championship
By Colin Foster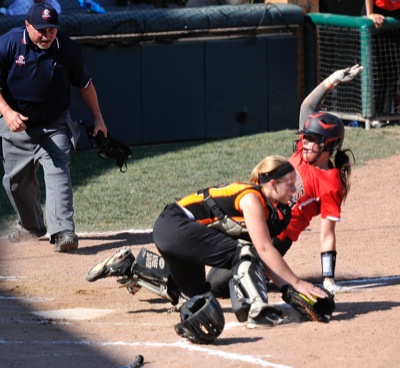 AKRON - The Division IV softball state championship game between Minster and Cuyahoga Heights was everything a state title game should be.
But a day after rallying their way into the finals, the Wildcats came up on the short end of the stick.
An unlikely hero emerged Saturday, as Cuyahoga Heights' nine-hole hitter Brittany Nero came to the plate with two outs and a runner on third in the bottom of the seventh and delivered the game-winning hit, lifting her team to a 2-1 victory at Firestone Stadium in Akron.
"They are a tough team," Cuyahoga Heights coach Christy Zawadzki said. "All season long, you look at their scores and they beat up on teams real well. It was a great game. I think it's the way a state championship game should be, a 1-1 game (going into the seventh)."
"Hats off to the ladies for making it to the dance floor," Minster coach Scott Robinson said. "We just didn't hit as well as we normally do today. (Cuyahoga's Meridith Chopka) is a good pitcher. We just didn't put enough hits together. That's the bottom line. They had the big hit and we didn't. Sometimes this is a game of inches and we gave them two unearned and that killed us. You can't do that at this level."
Samantha Rodriguez reached first to begin the seventh when she looped a high-fly ball in between three Wildcat defenders in right field, officially scored as an error on second baseman Alexis Robinson. Rodriguez's pinch runner, Morgan Orlowski, was moved to second on a bunt by Kaitlyn Gervase and then advanced to third on Bria Galang-Swanson's groundout to second.
Zawadzki admitted she never expected the game-winning hit in the state title game to come from the nine-spot, but she added that it came as no shock to her considering what Nero has done during the postseason.
"If you've watched us in through the district semis, the regional finals, Brittany's been coming up with big hits ever since we've got to the playoffs," Zawadzki said. "It's no better person to win this game for us today than the one who's been coming up with the big hits for us."
"I knew I was going to hit the ball. It was just a matter of when," Nero said. "When I did, I felt really, really good ... I can't even explain it in words."
"I was trying to hit my spots that coach was calling," Minster pitcher Kayla Richard said. "She just got ahold of it and hit it in the gap. It's tough, but she did a great job of getting ahold of the ball. I wish it could have been a different outcome but it's all part of the game." The state title is the first in Cuyahoga Heights High School history. The school's baseball team came close to achieving the feat in 2012 but fell short in the state title game. Ironically enough, it was Minster that beat the Redskins in that game, as Devon Poeppelman came up with a walk-off hit in the seventh inning.
"Being the first one in our 76-year school history, to be the first state champion, let alone to be the first female state championship, it just says so much about our small school," Zawadzki said. "And as I've stressed all season long, this group of girls is a family and they would do anything for each other. I think that was evident today, how they weren't going to go down. They're a family and they're going to go out and fight.
"All season long, we've kind of set ourselves up. We've played a harder schedule so that Meridith would be in these situations where it is a one-run game," Zwadzki continued. "Her composure through it all (was great). The girls feed off of her."
The high-octane Minster offense was held to two hits by Chopka, who went the distance and recorded six strikeouts.
The Wildcats took a 1-0 lead in the fourth inning. Rachel Heckaman was hit by a pitch to start the inning and she took second on a wild pitch. Two at-bats later, Michala Goettemoeller, who finished the game 2-for-3, brought her home with an RBI single.
The Redskins (23-3) evened up the game in the bottom half of the fourth. Dayna Denner opened the inning with a double. She advanced to third when Heckaman caught a line drive at short and tried to double her up at second, but the throw got by Alexis Robinson. Chopka hit a sacrifice fly deep enough to bring Denner home on the next at-bat.
Richard finished her career with another strong effort on the mound, throwing a complete game and striking out three. She had a 13-to-0 strikeout-to-walk ratio in the state tournament. The Midwest Athletic Conference Player of the Year allowed one earned run in league play this season and one earned run in the state tournament.
"Kayla did spectacular," coach Robinson said. "You can't ask any more from a pitcher than what she did this weekend."
Denner led the charge at the plate for the Redskins, going 2-for-3 with two doubles. She also made a huge play in the center field, diving to rob Sara Hosey of a hit in the seventh, a hit that could have put some pressure on the Redskins.
"She's very composed for a sophomore," said Zawadzki about Denner. "(Hosey's hit) could have been a game-changer with (Conrad) on base."
The loss in the state title game doesn't diminish what the Minster softball program accomplished this seasson. It was a year of firsts for the program, as they captured their first league title, their first regional title and earned their first appearance in the state championship game. The team ended with a record of 27-4 and the seniors leave as the winningest group in the programs' history.
"This is a great group of girls," coach Robinson said. "They're great leaders. They're great kids. They're great softball players. But I'll remember them for who they are as people ... I'm going to miss the seniors."
"Playing with this group of girls has been amazing for me and I wouldn't trade them for the world," Goettemoeller said. "I think of them as my best friends. We all get along great and we take it out on to the field with us. We laid it all out on the field today and we just couldn't get it done."