Thursday, July 3rd, 2014
St. Henry Catholic Church celebrates milestone
Parish began in 1839 by local families
By Amy Kronenberger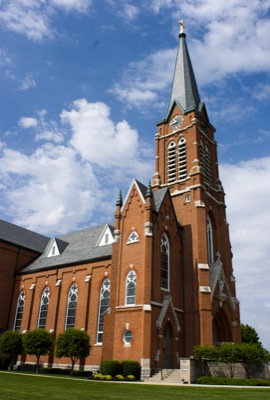 ST. HENRY - The St. Henry Catholic Church has been the center of the community's faith, figuratively and literally, for 175 years.
The parish will celebrate the milestone with an anniversary Mass during the feast of St. Henry at 10 a.m. July 13. The day will honor the faithful founders who had to travel by foot or horseback to Mass in Minster before building their own church. Those 18 founding families established the St. Henry parish in 1839 and built the first 50-by-25-foot log building just west of the current church.
Pastor Tom Hemm said the strong faith of the founders has only grown and strengthened.
"I've often reflected that sometimes I don't think we in this area are aware how our faith life has marked our community," he said. "Especially in this secular society, it's in greater jeopardy now than ever. But I really think the faith has carried through (the generations) due to a very strong Catholic culture, and that's an important thing to share in the household and not just in the church."
Hemm, a Piqua native, came to serve at St. Henry in August 2008. He had always known the area, but he was struck by the close-knit community.
"What really caught my attention from the beginning was the very tight integration between church and community," he said. "The church is very much a part of life here. It's not just a Sunday affair."
Hemm noted one of the strongest, continuous ties that has bound the community to the church over the last 175 years is agriculture. He said a farming lifestyle plays a large part in maintaining faith.
"I've noticed, from kids to grandparents, there is a real care for land and livestock," he said. "Young people who grow up caring for livestock have a deep understanding that the animal's life is in their hands. It's not just a job, it's a vocation."
The strong tie between faith and agriculture was recently celebrated at Jim and Jan Broe-
ring's farm with the St. Marys and Sidney deaneries' annual farming Mass. St. Henry hosted the Mass on June 5 in honor of its anniversary. About 450 farmers from the two deaneries attended, and Cincinnati Archdiocese Bishop Joseph Binzer officiated.
Jane Woods is co-chairperson of the anniversary celebration committee. She said the group chose to kick off the celebration last summer with the completion of church renovations.
"We didn't want it to be a one-event thing, and since the church was closed for a month for renovation, we thought that would be the best time," she said.
Woods said new carpeting and benches were installed during the project, along with some restructuring in the front of the church.
"We thought it seemed appropriate to do the kickoff when it reopened," she said.
Woods, who was born and raised in St. Henry, was happy to join the committee. She said the village's only church stands like a beacon in the center of town calling parishioners home.
"The church is all lit up at night, and when we're driving home, we can see it miles away, and we know we're almost home," she said.
Woods said St. Henry and other area communities are unique in how large a role the church plays in the community. She noted attendance has stayed strong despite more of the younger generation not attending church.
"Our statistics show how strong we've stayed," she said. "And you especially see it on Easter and Christmas because it's packed."
Woods' strongest memories of the church were the renovations made in 1970 due to Vatican II Council. She was married at Immaculate Conception Catholic Church in Celina - her husband's home parish - because St. Henry was closed for its total renovation.
The church's old gothic decorations, murals and statues were removed and replaced with a modern, simple decor.
"That's why I remember the changes," she said. "The church was closed and it affected me personally."
Woods noted how many of the older parishioners were not happy with the changes, but she liked them.
"I've always believed that change was good," she said. "The old church was very beautiful, and it was a shame, in a way, architecturally. ... But I've always been someone who goes with the flow. The church is still beautiful but in a different way."
Many of the items removed for the 1970 renovation will be on display July 10-12 in the church basement. Parishioner and planning committee member Bill Prenger organized the historical religious artifacts display, which also will include donated antique wedding and baptismal gowns passed down through generations and many old baptism and wedding certificates, among other items, he said.
"We have a lot of historical pieces," Prenger said. "We received a lot of donations. The basement is almost full."
The anniversary Mass on July 13 will welcome many priests, brothers and nuns who have ties to the parish, Hemm said. Cincinnati Archdiocese Bishop Binzer will officiate the Mass. The Rev. Larry Hemmelgarn, native of Philothea and provincial director of the Missionaries of the Precious Blood in the eastern U.S., will also be one of several guests.
Another guest will be the Rev. Benedict Magabe, who was reassigned this week after serving at St. Henry for six years as associate pastor. Magabe's stay in St. Henry was his first in the U.S., and during the last six years he made his mark on the small community.
Woods said she wondered how an African priest would fit into a community with a "staunch German background." She worried about how he would be received.
"He just made us love him," she said. "He had a special way about him and he was very funny. ... People loved him from the very beginning."
Woods said Magabe's service in St. Henry opened parishioners' eyes to a whole new culture. Many residents travelled back with him when he visited his home in Tanzania.
"I think that speaks to how much people love him," she said. "It's been a good cultural experience for St. Henry."
Hemm said Magabe brought his world to St. Henry.
"With the coming of Fr. Benedict, it brought a whole new perspective of Africa," he said. "It really opened our world up quite a bit. It helped us realize that we have a gift here."
Hemm noted, however, that St. Henry parishioners' appreciation for other cultures expanded long before Magabe arrived; members have made several mission trips to Haiti.
He said isolated rural communities could fall to the temptation of losing sight of the bigger world and the needs of different cultures, but St. Henry continues to serve.
"There is a tremendous missionary aspect in this community, especially in Haiti," he said. "So it's broken that temptation.

175th anniversary events:
• Historical religious artifact display in the church basement, 6-9 p.m. July 10, 1-7 p.m. July 11, and 10 a.m.-3 p.m. July 12.
• Architectural tour of the church, 1:30 p.m. July 12.
• Anniversary celebration Mass officiated by Bishop Joseph Binzer at 10 a.m. July 13. Radio Maria, 88.7 FM will broadcast the Mass live. A lunch reception will follow at the St. Henry American Legion Hall. Tickets are required to attend. Those interested may call the church at 419-678-4118.