Thursday, July 3rd, 2014
Quick start helps 'Riders to advance
ACME District 5 Tournament: Convoy Sectional
By Gary R. Rasberry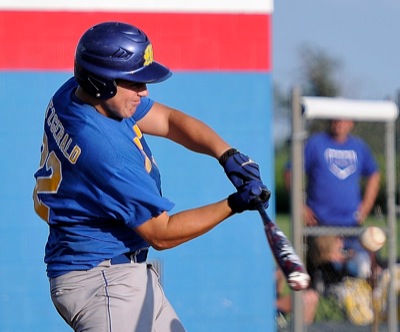 CONVOY - St. Marys started out like blazes and then had to hold off a furious Van Wert rally to capture the Convoy sectional title of the ACME District 5 tournament 8-6 on Wednesday at Crestview High School.
The Roughriders (10-1) advance to the District 5 semifinals on Saturday at 12:30 p.m. at Ed Sandy Field in Elida against the Bath Wildcats, who were runners-up at the Bath sectional to LCC by a 7-5 score on Wednesday. The first game on Saturday pits the Thunderbirds (11-5) against the Cougars (13-6) at 10 a.m.
"I'll tell you right now, (with) this group, district ain't enough," St. Marys coach Chad Laman said. "We're not looking ahead, but we want more. We knew we could get through this sectional. We played well and we want more."
The Roughriders got the action rolling from the opening pitch, with the first 10 batters reaching base safely by various means. Tristan Becker led off with a single, followed by Logan Maze (hit by pitch), Isaac Fitzgerald (single), Matt Douglas (RBI walk), Austin Quellhorst (RBI walk), Marshall Lininger (RBI fielder's choice), Austin Howell (RBI fielder's choice), Michael Harbaum (RBI double), Colin Burke (reached on error) and Becker again (RBI single).
Becker's second single finally chased Cougars starting pitcher Ethan Williams from the mound after he recorded just two outs in the inning, giving up four hits, two walks and seven runs (five earned). Josh Braun came on to entice Maze to ground out to end the inning.
Braun cooled off the Roughriders as he went the rest of the way for Van Wert, holding St. Marys to just one run on seven hits, walking none and striking out four. Fitzgerald drove in Becker with a single in the third inning to round out the Roughrider scoring.
"I think we let off the gas pedal," Laman said. "We'll get back into the (batting) cages and work harder."
Lininger was in fine form pitching through the first five innings, allowing just two hits and an RBI double by Brant Henry in the third inning.
Things changed in the sixth as Lininger's pitch count rose. Van Wert got a pair of singles and a hit batsman to load the bases with one out. Laman brought on Douglas to relieve, but Ryan Stoller greeted Douglas with an RBI single and Jake Cobey drew a walk to bring home the third run of the inning. Henry blooped the ball over the mound. The throw to get the runner coming home was wild, allowing two runs in to make it 8-5. Joe Lisa's groundout to second brought home the fifth run of the inning before Douglas got Braun to look at strike three to end the threat.
"Marshall pitched well today," said Laman of Lininger, who struck out eight and walked four in 5 1/3 innings. "Only reason he came out was his pitch count. If his pitch count stays down, he's still in the game to the end."
Douglas had no issues in the bottom of the seventh, getting back-to-back strikeouts before enticing Caleb Jenkins to ground to second to end the game.
"It was like we played three games today," Laman said. "We started out hot, let up and then when you get down to it, we got back on it."
Fitzgerald, the WBL and Area Player of the Year, went 4-for-4 for St. Marys. Becker went 3-for-4 with Howell collecting two hits.