Wednesday, July 16th, 2014
Rhoades turns down plea deal
Sentenced on another charge related to Grube murder case
By Margie Wuebker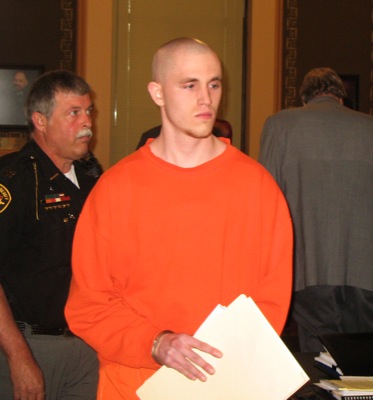 CELINA - Bryant Rhoades - one of two men implicated in the November 2011 murders of Robert and Colleen Grube of Fort Recovery - on Tuesday backed out of a negotiated plea deal that could have spared him the death penalty.
Although he was sentenced for obstructing justice for his actions during the murder investigation, other charges against Rhoades remain pending in Mercer County Common Pleas Court. A pretrial hearing likely will take place in seven to 10 days, county prosecutor Matt Fox said.
The 23-year-old Union City man in documents filed Monday in Mercer County Common Pleas Court indicated he would enter an Alford plea of guilty, which would allow him to maintain his innocence while admitting the state had sufficient evidence to convict him on two counts each of aggravated murder with firearm specifications, aggravated robbery and aggravated burglary.
The negotiated agreement would have dismissed the death penalty specification and all remaining charges in the 27-count indictment, and carried a likely penalty of life in prison without parole.
A three-judge panel of local judge Jeffrey Ingraham and visiting judges Jeffrey L. Reed of Allen County and Randall L. Basinger of Putnam County was seated Tuesday to handle the proceeding after Rhoades waived his right to a jury trial.
The judges questioned Rhoades on why he wanted to enter a guilty by Alford plea.
"I can't prove I'm innocent," he replied.
Basinger quickly reminded the defendant the burden of proof rests with the state.
Ingraham asked Rhoades to explain the meaning of life in prison.
The defendant replied it meant he would spend the rest of his life in prison unless new evidence arose to prove his innocence "or if the people who really did it came forward."
During Tuesday's proceeding, Fox read a stipulation of facts that detailed the events at the Grube's Burrville Road home on the night of Nov. 29-30, 2011.
Ingraham asked Rhoades whether the statement of facts was accurate. The defendant expressed concern about the description of the garage where, according to Fox, he took tools and a chainsaw.
"His version is different but he is still willing to sign the stipulation," Rhoades' co-attorney, William Kluge, said on his client's behalf.
Kluge had previously stated he and co-counsel Robert Gryzbowski had discussed the Alford plea with their client five or six times.
After Fox read the statement Rhoades requested and was granted time in a nearby jury room to speak with his attorneys.
Ingraham later announced to the courtroom that Rhoades no longer wished to pursue the Alford plea.
The first part of the more than three-hour proceeding went as expected with Rhoades pleading guilty to obstructing justice in a companion case. He was sentenced to 36 months in prison for providing false information to investigators regarding the location of evidence at an Indiana quarry and a Fort Recovery mobile home park.
Ingraham granted Rhoades credit for 476 days already served at the Mercer County Detention Center.
Kluge requested court costs and attorney fees be waived because his client has no financial resources. Ingraham concurred and called a brief recess before proceeding to the murder case.
Family members, who had prepared victim impact statements to read at the expected sentencing for murder, wept when the hearing ended abruptly. None of Rhoades' relatives were in the courtroom.
According to a stipulation of facts read during an earlier court hearing, the suspects reportedly smoked methamphetamine en route to the Grube home and feigned car trouble before forcibly entering the targeted home. Once inside, they duct taped 70-year-old Robert Grube to his wheelchair in the living room and bound 47-year-old Colleen Grube on a nearby couch, Fox said. The Grubes were held at gunpoint while the intruders searched the home, the stipulation of facts states.
Using a gun belonging to the Grubes, Rhoades and co-defendant Trevin Sanders-Roark then killed the pair with multiple gunshots, Fox said.
Fox said Rhoades during numerous interviews with detectives admitted to being at the scene that night and provided "intimate" details about the layout of the home and the detached garage - things only a participant in the crimes would have known.
Sentencing for Sanders-Roark, also of Union City, was set for Thursday but this morning was continued. No date was set. An attorney conference in the case is 9 a.m. Thursday.
Sanders-Roark, who was 17 at the time of the murders, pleaded guilty Feb. 27 to two counts each of aggravated murder, aggravated robbery and aggravated burglary.
He also signed a similar statement of facts identifying him as Colleen Grube's killer and Rhoades as the person responsible for Robert Grube's death.