Tuesday, July 22nd, 2014
Werling to reign over Celina Lake Festival
Richter selected as runner-up
By Amy Kronenberger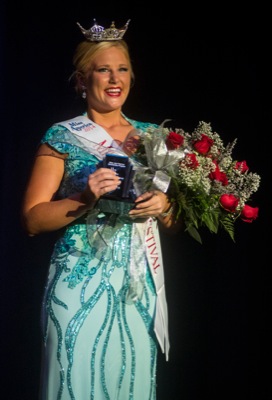 CELINA - Burkettsville native Emily Werling on Monday evening was crowned Miss Lake Festival 2014.
Werling, 21, took the stage with six other contestants in the 59th annual Miss Lake Festival Scholarship Pageant in the Celina schools auditorium. Interspersed throughout the competition were the Princess pageant and the crowning of Miss Outstanding Teen.
Werling is a 2011 St. Henry graduate and a senior at Capital University, where she is majoring in music with a minor in psychology. As the winner, she received a $3,000 scholarship.
She is the daughter of Rick and Carol Werling.
Werling wowed the crowd with her moving rendition of "O Mio Babbino Caro," an operatic aria about a daughter convincing her father to accept the man she loves. The talent portion accounted for 35 percent of each contestant's score. Werling also received the talent award, which included an additional $500 scholarship.
In the evening wear portion - 20 percent of each score - Werling modeled a pale-blue sequined gown. In the lifestyle and fitness category - 15 percent - she wore a dark blue, two-piece swimsuit.
The contestants participated in a private interview just prior to the contest, which accounted for 25 percent of their score. The onstage interview, during which the young ladies answered two questions about their interests, opinions and aspirations, was worth 5 percent.
Throughout her reign in the coming year, Werling will work for her platform "B-CAUS (Breast Cancer Awareness Using Song)." During her onstage interview, she said the song aspect of her platform will help garner people's attention. All the proceeds she raises will go toward breast cancer research, she said.
Runner-up was Alexis Richter, 20, New Bremen, who performed a classical piano solo entitled "Sonata Pathetique Op. 13." She received a $1,500 scholarship. Her evening gown was a black and white strapless dress with sequins. Her swimming suit was a black, two-piece with white and gold accents.
Richter is the daughter of Teresa and Brent Richter.
Second runner-up was Kelsey Barrett of Wapakoneta, who was awarded a $1,400 scholarship. Contestant Veronica Wende, 22, Lima, received the interview award with a $500 scholarship; Lauren Hone, 17, Celina, was awarded the people's choice award with a $200 scholarship; and the commitment to excellence award and a $500 scholarship were received by Kailee Ross, 18, Celina.
Awarded after the pageant at Romer's Catering, Celina, was the onstage question award - $200 - to Wende. The Barbara Wagner non-finalist award - $200 - was given to Ross.
The pageant this year awarded a total of $14,100 in scholarships, including $4,000 of in-kind scholarships to Wright State University-Lake Campus from the Western Ohio Education Foundation.
Also crowned on Monday night was Mac-Kenzie Lange as Miss Lake Festival Outstanding Teen 2014. Lange, 14, a freshman at Wapakoneta High School, was the only contestant. For the talent competition, she performed "Let Me Be Your Star" from the musical television series "SMASH." As Outstanding Teen 2014, she will work for her platform "Teen Depression and Suicide Awareness."
Former Daily Standard employee Betty Lawrence was honored with a service award for covering the pageant each year from 1990 to 2013. Pageant director Melissa Hoying said Lawrence served the pageant well through her dedication to accurate reporting. Lawrence retired from the newspaper in June after almost 47 years of service.
Miss Lake Festival 2013 Grace Stammen served as the evening's host, gave several performances and crowned Werling. Also performing and assisting were Miss Lake Festival Outstanding Teen 2013 Makenzie Fennig and 2013 Miss Lake Festival Princess Lucy Piper.
Werling will reign over the annual Celina Lake Festival, which begins Friday. She is eligible next year to compete in the Miss Ohio competition, part of the Miss America pageant.