Tuesday, July 22nd, 2014
Host families make lifetime bonds with Mariners
By Colin Foster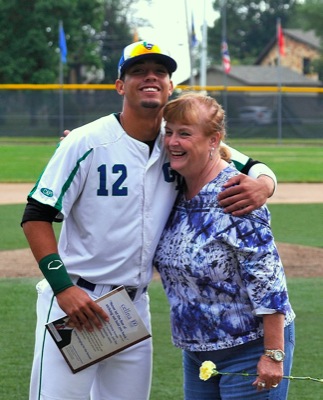 Every summer since 1990, area families have invited Grand Lake Mariners players into their homes to stay.
Some families are first-timers while others have been at it for more than decade. Though there have been both good and bad experiences, most host parents/families agree that the process has enabled them to make long lasting connections with the players.
"Most of them call us mom and dad," said area resident Bill Miller, whose family hosts Miami University player Spencer Dull and attends every game. "Actually, the other day, (Spencer) walked up to us when we were sitting on the third baseline ... and he said 'Hey, Mom. Hey, Dad.' "
"I still hear from the boys that I housed the very first year and others since then," said Betty Feliciano, currently in her seventh year as a host. "We form relationships that are really long-lasting."
Current Mariners General Manager Barb Delzeith, Coldwater, has housed players for 14 years, the longest of any host. She loves it so much that she actually housed six players one summer. This season, Delzeith is hosting four players: J.J. Buckey and Peter Munger, both from Ohio Wesleyan; Dylan Woods, SC Upstate; and Alex Williams, Findlay.
"For the most part, (the experience) has been really good," Delzeith said. "It's hard because they are used to being on their own and I'm not used to having people in my house, so I always want to know where they are.
"But for the most part, everything has been good."
Delzeith and her late husband decided to host players when her oldest daughter got married and they had some spare bedrooms. The first year they hosted one player from Canada and another from Florida, a person with whom she still keeps in contact. She still communicates with about half of the people who have stayed with her, she added.
It was Mariners' board member Joe Hoying, a strong Iowa Hawkeye allegiance and Bill Miller's love for baseball that led Miller and his wife, Karen, to become host parents. The Millers have welcomed players into their home for the last seven years. The family housed Iowa players the first five summers
"I'm a huge Iowa Hawkeye fan and (Joe) approached us," Bill explained. "We had two young boys at the time. He said 'Hey, we've got a kid from Iowa coming.' He goes 'You guys would be great hosts for this young man.' I talked it over with the wife and kids and they were all for it. We've been hooked ever since."
The players have become the Miller's extended family over the years. They have swapped stories and played with their kids. They've met the parents of the players and attended the players' weddings.
"We keep in contact with the kids, which is fun," Bill said. "Actually, one of them got married just a couple years ago. We went out to Iowa City and went to the ceremony and the reception. We've got one in October that we're going to that's in Des Moines, Iowa. It's pretty fun. We'll go to football games down in Iowa City. We'll always meet up, go out to eat and hang out."
Feliciano, originally from Mendon and living in Celina, is also in her seventh year as a host parent.
It's been a fair tradeoff for Feliciano and the players she has hosted. Though it's not a requirement of hers, the players have assisted around the house with various chores, such as yardwork and helping with dishes. They've also brought a willing appetite to the dinner table, something that Feliciano doesn't mind at all.
"I love to cook and bake," said Feliciano, "and they love to eat."
Feliciano, a veteran Mariners board member who served as general manager in 2012, said she has served as a host parent to more than 15 players over the last seven years. She's housed players from all over the globe, including those from British Columbia, Florida, Michigan, Ohio, Indiana and North Carolina.
"I guess I kind of get a certain kind of satisfaction trying to help these young people work toward their goal, their dream," she said. "I want to endorse it and support them if they do that. I think it's a mutually beneficial thing because I enjoy having them around. They're great company, at least that's what my experience has been."
Feliciano, a retired teacher from St. Henry who currently runs her own travel business, is housing Tristan Mercadel this summer.
"He's a gem," said Feliciano of Mercadel.
Mercadel has been a gem on the field for the Mariners, as well, as he earned a spot in the Great Lakes Summer Collegiate League All-Star Game. Mercadel, a sophomore at California State University Long Beach, came all the way from Riverside, Ca. to play for the Mariners.
Returning families hosting players this year include Tim and Tara Berkenstock, Coldwater; Eric and Kris Niekamp, Coldwater; Neal and Theresa Staugler, Montezuma; Eric and April Goodwin, Coldwater. Jay and Beth Frilling, Coldwater; Chad and Kim Altstaetter, Celina; Char Henkaline, Minster; Larry and Ami Boley, Celina, are all hosting for the first time.
The Mariner's season will soon come to an end and players will return to their respective schools. For some host families, watching them go is tough. The connections they made, however, will last a lifetime.
"There's a bond you make, and when they leave, it's so sad," Delzeith said. "It's like you're losing a part of your family."