Wednesday, July 23rd, 2014
Fort Recovery has eggs-actly what company needs
By Doug Drexler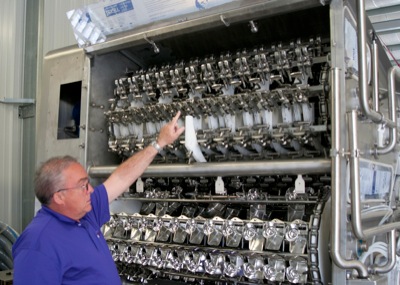 FORT RECOVERY - The village offered an irresistible pair of assets when North Central Equity was seeking a second location for its Perham Egg division.
"We're here for two reasons: the eggs are here and the village can handle the wastewater," said Bernie Coyle, the company's vice president of manufacturing.
The egg-cracking factory began production Monday with 24 employees in the 55,000-square-foot facility along Wabash Road. Funding assistance from the state and county requires Perham Egg to hire 40 employees by the end of 2016, Coyle said.
"We should nail that one," he said.
The company strives to work with local suppliers and is actively looking for area farmers to provide imperfect eggs known as restricts or checks, he said. Perham Egg offers 60-month contracts based on national market prices, he added.
Prior to April 2013, yolks sold for about twice the price of whites, Coyle said. The roles reversed after McDonald's created the all-white Egg McMuffin. Other restaurants and hotel breakfast bars subsequently joined the healthy eating trend, he said.
Two 2,500-foot additions already were adjoined to the 50,000-square-foot plant that formerly housed M&R Eggs. Officials have completed wiring and setup work to add another processing line when needed, Coyle said.
The facility has 25,000 square feet of cooler space that keeps the eggs within 3 degrees of 38 degrees until they are ready to crack, he said.
Each load of eggs arriving at the plant is weighed, given a lot number and a smart code for tracking from the date and location it was laid to the customer, he said. After they are brought to room temperature, the eggs are loaded onto a lift and placed on a conveyor that nestles each into a metal cup, Coyle explained. They are then scrubbed in water that is changed every four hours, he said.
The line can process one skid every five minutes, he added. The eggs go through a candling station that removes any that don't meet standards. The eggs then enter the cracking room, which is kept at positive air pressure to ensure contaminants are removed, Coyle said.
Workers must sanitize their shoes, put on a new gown and bib, then hose off the bib before entering the cracking room, he said. Samples are taken over a 24-hour period every two weeks to verify no contamination has taken place, he noted.
During production a blade in each conveyor cup cracks the egg, and a slit allows the whites to separate from the yolks, Coyle said. Shells are removed by an augur and eventually used as feed on a cattle farm in Hicksville, he said.
The line can convert nearly two truckloads of eggs into one tanker load of cracked eggs in about three and a half hours, Coyle said.
Yolks are sent to producers for products such as mayonnaise and ice cream. Many producers dry and reconstitute the yolks, he said. Whites are sent off to processors who use them for breakfast foods among other items, he said.
Fifteen automated controllers track the entire operation and can be monitored off-site to ensure the plant is operating properly, he said.
Cleanliness is important, he said. Standing water is forbidden and soap is purchased by the tanker full for use throughout the factory, he said.
"When in doubt, sanitize," Coyle said.
The plant is permitted to dispose of 50,000 gallons of wastewater per day, he said, adding employees must wash out each 7,000-gallon tanker and storage tank between loads.
The U.S. Department of Agriculture has an inspector on site, he said. The line stops every four hours for a half-hour disinfection, Coyle said. At the end of the day it is dismantled for a complete six- to eight-hour sanitizing, he said. Pallets are sanitized as well, he added.