Wednesday, July 23rd, 2014
Goodwin receives Paul Brown Award
By Gary R. Rasberry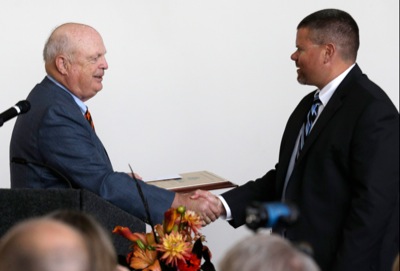 Marion Local's Tim Goodwin has a mantle full of honors already in his 15 years as head football coach: Seven state titles, a couple of state Coach of the Year accolades and an .800-plus career winning percentage.
Goodwin added to his honors on Tuesday in receiving the Paul Brown Excellence in Coaching Award from Cincinnati Bengals owner/president Mike Brown. The award, first presented in 2002, honors outstanding high school coaches in the region.
"This is a really nice award for two reasons," said Goodwin, who said he found out about the honor in June, via telephone. "First of all, it caught me totally by surprise, so that makes it kind of fun. The second is (the person the award is named after) Paul Brown and he was a high school coach (at Massillon Washington, the site for several of Marion's state championship titles). I met with a lot of the Brown family today and you can tell how much their dad meant to them. You can tell they felt this was an important day for them."
Mike Brown and the Brown family showed Goodwin and his wife Dawn, who celebrated their 19th wedding anniversary on Tuesday, around Paul Brown Stadium before the ceremony.
"They couldn't have been nicer to my wife and I today," said Goodwin, who is 169-40 at Marion Local. "They showed us around everywhere. They treated us like royalty. We met a lot of classy people today."
The majority of the previous winners were coaches of Cincinnati-are schools like Moeller, St. Xavier, Elder and Taft. Goodwin thinks a Marion connection might have helped in his earning the honor.
"I think Jim Lippincott (who coached Marion Local in the 1970s and later worked for the Bengals' front office) was helpful for me in getting this award," Goodwin said.
Goodwin gave credit to the players and assistant coaches with whom he has worked over the years.
"Like I told them today, I'm just here representing all the great kids who worked their tails off at Marion Local and all the great people who have coached with me," he said.
In addition to a plaque, the Marion Local athletic department will receive $5,000 from the Bengals.