Thursday, August 7th, 2014
It's fair time again
By Shelley Grieshop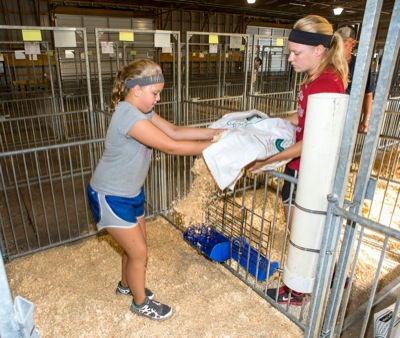 CELINA - The thrill of airborne dogs, kids wrestling livestock and a frog-hopping competition awaits visitors to this year's Mercer County Fair.
The 162nd annual event kicks off Friday and continues though Aug. 14 at the fairgrounds in Celina. About two dozen new events and entertainers will debut, fair manager Cara Muhlenkamp said.
"I wish I had more time in the week to enjoy the fair's activities this year," she said Wednesday, as vendors and campers continued to arrive.
Several new events this year include the FMX Stunt Drivers, recycled art contest, canning demonstration, Hula Hoop contest, livestock scramble, Tuff Truck contest and the watermelon-seed spitting competition.
The Dockdogs - described as "dock jumping canine aquatics" - competition is set for Friday through Sunday at the Lefeld Community Center. Dogs will compete in Big Air Wave, Speed Retrieve, Iron Dog and Extreme Vertical categories.
Musical entertainment of all types is scheduled throughout the week. The Swon Brothers will warm up the grandstand crowd Friday night before popular country singer Rodney Adkins takes the stage.
One of Muhlenkamp's favorites, Mama's Wranglers, will perform Monday and Tuesday in the entertainment tent, and Wednesday and Thursday in the junior fair tent.
"Mama's Wranglers has something for everyone in their show from singing to clogging," she said.
The show consists of a performance by the Jackson Family Band & Cloggers of Las Vegas. They have performed in 49 states, Canada and Europe, and on average do more than 280 shows per year. The Jackson children range in age from 12 to 23.
Also new this year are a flamingo ring toss, cheerleading contest, martial arts demonstration, a heroin presentation by Mercer County Jeff Grey, a cooking demonstration, fashion shows, kid's demo derby, Professor Bubble Maker and Zak Morgan, who performs children's music.
Muhlenkamp said free entertainment is plentiful at the fair.
"I am so excited to have several free entertainment options for our fair patrons to enjoy," she said. "They can enjoy many aspects of the fair without breaking the bank."
Gates will open each day at 8 a.m. Single admission without rides is $6 per person for everyone 5 years old and up. Daily ride wrist bands are $8.
Complete fair information can be found at
mercercountyohiofair.com
.
Mercer County Fair opening day schedule:
Friday - opening day
• 8 a.m. - fair opens, admission charged
• 9 a.m. - dairy cattle show (Adrian Debrosse Arena)
• 1 p.m. - commercial building opens
• 2-6 p.m. - Red Cross bloodmobile
• 3 p.m. - opening ceremony (front gate)
• 3:30 p.m. - rabbit show (Adrian Debrosse Arena), swine carcass show (Coldwater Young Farmers Arena)
• 5 p.m. - cakes, pies and produce auction (entertainment tent)
• 5:30 p.m. - special interest awards, crowning of swine industry queen (junior fair tent)
• 6:30 p.m. - junior fair king and queen contest (junior fair tent)
• 7 and 9:30 p.m. - Erastus (beer garden)
• 7:30 p.m. - crowning special royalty (junior fair tent)
• 8 p.m. - Rodney Adkins concert/opening act The Swon Brothers (grandstand); Bobby Maverick, comedian/magician (entertainment tent)
• 9 p.m. - flamingo ring toss (entertainment tent)