Saturday, August 9th, 2014
Buyers scour U.S. 127 yard sale for treasures
By Kathy Thompson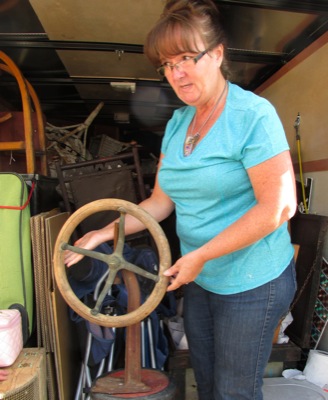 A deluge of treasure seekers, both local and out-of-state, made the annual pilgrimage to U.S. 127 this week for the World's Longest Yard Sale, scouring through boxes, shelves and stands for valuable finds.
This Mecca of miscellanies spans 690 miles from Gadsden, Ala., to Addison, Mich. It was initiated in 1987 in Jamestown, Tenn., to promote businesses along the lesser-traveled roadway.
In Celina, Lake Shore Park and the north end of Main Street are teeming with sellers and buyers of second-hand and sometimes new merchandise.
"The people are so friendly here," Tevie Tillman of Savannah, Ga., said on Friday morning as she and her husband, Jim, loaded up their van to continue their trek from Van Wert to Alabama, the farthest point of the sale.
This is the first year the couple has traveled to the Midwest for the sale; next year, they'll swap the van for a truck and a trailer to increase their storage capacity.
Looking for industrial and mid-century items, the Tillmans will take their goods back to Georgia to refurbish them for owners of homes and condos who love that "industrial, minimalist look."
"Think of Frank Lloyd Wright when you think of what we do," Jim Tillman quipped on Friday afternoon as he arranged chairs, lamps and workbenches in his van. "We build a lot of furniture for people who live in New York City in a loft. This stuff is really the in thing right now."
Both Tevie and Jim said they've enjoyed their trip to Ohio, especially Van Wert and Celina.
"The countryside is beautiful. The people are friendly," Tevie Tillman said as she scratched Dixie Chicken, their dog, behind its ears. "We can't wait to get back and tell all our friends that this is the place to come."
Vendors and dealers from all over the state were out in full force in and around Celina for the sale.
Antiques, mirrors, beds, clothes, dolls, tools, camping equipment, paintings, tires, glassware and beer signs were just a few items thousands of people stopped to look at.
Charlotte Bice and her "partner in crime," Dianna Hamill, were itching to get back on U.S. 127 after a brief stop at the Burger King in Celina on Friday morning.
The pair, from Carthage, Mo., are spending the next few days traveling the highway, camping and staying in motels.
With the help of Hamill's husband, Larry, the women were rapidly filling a trailer pulled behind a truck with their finds, which they will either keep or resell at their antique store, The Specialty Shop, in Noel, Mo. They began their journey in Michigan, but all agreed Ohio has the "best sales, the nicest people and the best buys."
Hamill is looking for "bling and mirrors," while Bice looks for "things that catch my eye."
Bice was excited that she found a bottle corker, made with an old wooden steering wheel, and a child's sled, while Hamill was thrilled she was able to purchase a hornet's nest, emptied of its stinging wasps, and a fur coat "covered with bling and even has a fly swatter."
Both ladies said those items will be placed in their homes, not at the shop.
"Although, we do love to buy and resell," Bice said with a laugh. "We even bought a port-a-potty so we don't have to find one."
Larry was not to be left out at the sales and his find of the day was a railroad block with a key.
"These are pretty rare," Larry said. "The key is the most rare. The back is inscribed with initials of what railroad this belongs to, so I"ll have to research that. But I'm happy. It's pretty cool."