Monday, August 25th, 2014
Kennedy claims cup
Regatta winner originally wasn't scheduled to race
By Colin Foster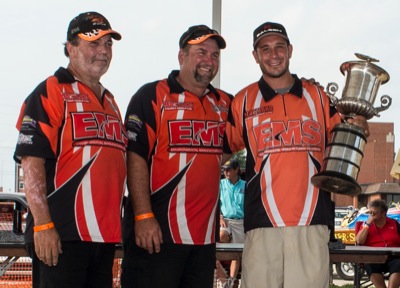 CELINA - Bobby Kennedy had no big plans for the weekend.
A phone call Thursday changed all that and landed him a spot in the Governor's Cup Regatta on the shores of Grand Lake.
"I didn't know I was driving this weekend until I think Thursday," said Kennedy after the event concluded. "I got a call, 'Can you drive my boat?' I was like, 'Yeah, I'll drive your boat.' "
It turned out to be a banner weekend for him.
Kennedy of Annapolis, Md., was crowned Governor's Cup champion Sunday, ending Dan Kanfoush's three-year reign as champ. Kennedy defeated Kanfoush on a tiebreaker. The two racers each tallied 395 points but Kennedy's speed in the 2.5 Litre stock division was closer to the class world record of 79.383 mph.
Kanfoush has won the competition four times, his first coming in 2006. Last year, he became the first driver to win it three consecutive years.
Kennedy understood that in order to be the best, he had to beat the best. After Sunday's victory, he made sure to mention what Kanfoush and owner Jim Sechler have accomplished through the years.
"They've had one hell of a run for five years now, 10 years," Kennedy said. "They've been unstoppable. Congratulations to you guys. You guys are awesome."
"It feels great (to win)," he added.
"It all comes down to the good starts. That's what it came down to this year, and Bobby made the better starts and better timing. What can you say? That's racing," said Myron Buxton, who served as co-chairman of this year's event along with Scott Anderson. Bobby Kennedy is the cousin of 2008 winner Brandon Kennedy, who set the course record in the 1.5 Litre stock division in 2009 with 71.684 mph.
Kanfoush took home top honors in the 1 Litre division. Bobby Kennedy was first in the 5 Litre weekend results while John Jenkins and owner Andy Denka were awarded top honors in the Grand National Hydroplane division.
The event attracted racers and spectators from Delaware to Florida and Michigan to Minnesota. The event even drew a little international flavor this year with racers from Ontario and Australia.
Buxton said close to 30 racing boats and eight to 10 vintage boats raced this year.
"We had a good turnout both days," he said. "Sunday was a little better than (Saturday). Crowds were good. There was good racing."