Tuesday, May 5th, 2015
Guggenbiller pleads not guilty to murder
By Shelley Grieshop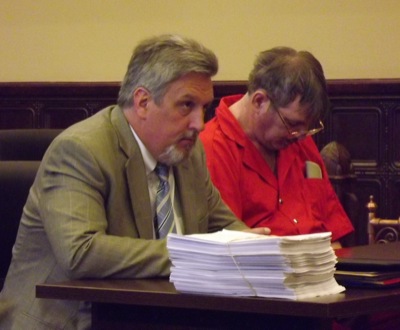 ST. MARYS - An area man accused of stabbing to death a local farmer 33 years ago pleaded not guilty to the crime during a hearing Monday.
With his head bowed most of the time, Brian S. Guggenbiller, 52, of Lima, offered the plea to a charge of aggravated murder during the arraignment hearing in Auglaize County Common Pleas Court. He is the third suspect charged in the gruesome death of Marcellus Reineke, 72, during a botched burglary in St. Marys in October 1981.
One of Guggenbiller's court-appointed attorneys, Robert Gryzbowski, told visiting Judge Reginald Routson his client may later change his plea to not guilty by reason of insanity. He requested the court order a psychological test for Guggenbiller to determine if he is competent to stand trial.
County assistant prosecutor Ben Elder concurred with the request for Guggenbiller's psychological examination and noted he would have no objection to an insanity plea if test results indicate it is appropriate.
Routson ordered Guggenbiller to undergo tests at the Forensic Psychology Treatment Centers in Ohio.
"Do you have a timetable?" the judge asked Elder.
"Within 30 days they should have a (psychological) report," Elder replied.
Ralston said a telephonic conference would be scheduled in early June, likely followed by a competency hearing. Dates were not yet set on the court calendar.
Elder handed to Gryzbowski more than 1,000 pages of "discovery" - information the prosecution has gathered against Guggenbiller for its case. More data are held on digital media, Elder said. Both sides agreed to share all discovery that could be used if a trial is held.
Guggenbiller at the first scheduled arraignment hearing April 27 appeared without counsel. Routson opted to delay that hearing until Monday so the defendant - who claimed to be indigent - had legal representation before entering a plea.
During the hearing eight days ago, Guggenbiller told the judge he was living at a home in Lima for adults with various disabilities. He also stated in court he takes medication for mental and physical problems.
Several members of Reineke's family were present in the courtroom on Monday. They released this statement to The Daily Standard:
"It has been a long journey for the family of Marcellus Reineke, brother and uncle, especially these past three years - but now it is coming to an end. All of his siblings have went to their graves not knowing who murdered him. But justice has been served. It is such a relief for our family. The last of our uncle's pain is being relieved. Our family is very grateful and fortunate for Detective Kim Reier and the St Marys Police Department, which did not give up on solving the case. We are very thankful. And now we have closure!"
Guggenbiller remains in jail on a $2 million cash bond. He was 18 at the time of the crime - the youngest of the three indicted for the murder of the retired farmer.
Paul Leroy Hoover, 53, of Florida and formerly of St. Marys, one year ago was sentenced to seven to 25 years in prison after pleading guilty to an amended charge of involuntary manslaughter. Tracy Mabry, 52, of Celina, in February was ordered to serve the same prison term after pleading guilty to an identical amended charge.
According to information revealed at a court hearing earlier this year, Mabry on Oct. 13, 1981, drove Hoover and Guggenbiller to Reineke's home on South West Street. Hoover reportedly went upstairs to search for a briefcase he believed contained $50,000 in cash.
Authorities believe Guggenbiller confronted the elderly man and stabbed him 39 times. Reineke also suffered multiple blunt-force injuries while the suspects tried to persuade him to reveal the location of the briefcase, according to officials.
The prosecutor earlier said Hoover poured lighter fluid on a bedroom mattress and ignited it before the three men fled the home. Detectives reported a small amount of cash, old coins and a watch were missing from the residence. Guggenbiller, similar to Mabry and Hoover, faces a maximum sentence of life in prison with the possibility of parole after 15 years, per the indictment and the law at the time of the crime.
A death penalty specification was not included in any of the indictments.