Tuesday, May 5th, 2015
Homan shuts down Redskins
Flyer pitcher tosses four hitter in 8-0 win
By Colin Foster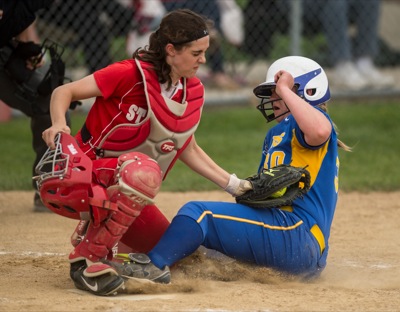 ST. HENRY - A senior from Marion Local stole the show on St. Henry's senior day.
Flyer pitcher Taylor Homan tossed a complete game four hitter and Marion continued to swing the bats well in an 8-0 Midwest Athletic Conference victory at the Wally Post Athletic Complex on Monday.
"She's been pitching a heck of a ballgame all year," Marion Local coach Julie Overman said. "As long as she hits her spots, she usually wins each battle every time. I can't ask for a better pitching performance from her. My defense had two errors, but we fought back from those and we didn't let those get us down today. We've done that in the past.
"If we can continue to play offense and defense, we're sitting well."
Taylor Homan, who finished with six strikeouts compared with no walks, carried a no-hitter into the fifth before it was broken up by Jacey King, who came through with a one-out single. King was the first baserunner of the game for the Redskins, who ended up stranding a pair on second and third in the inning as Homan fanned the final two batters. St. Henry put two on in each of the last three innings but couldn't push a run across.
"She moved the ball around a lot, which was difficult for us," St. Henry coach Kylie Huelsman said. "We were expecting her to throw more balls than she did, but she was really consistent and threw a lot of solid strikes to different corners of the plate, up and down, side to side, and we just couldn't adjust."
The Marion Local offense did its damage in the first three innings. Hannah Moeller had a one-run double with two outs in the first. An inning later, Sarah Fesenmyer hit another two-out double to score Taylor Homan all the way from first for a 2-0 lead. The Flyers added four runs in the third on three hits. Maddie Griesdorn's groundout plated the first run, two came across on wild pitches and Hannah Homan hammered a double for the final run.
The Flyers had eight hits through the first three innings and finished the game with 13.
"We're getting better to where we're hitting 1-9," Overman said. "We're not just hitting in the top, we're hitting in the middle. Everybody's starting to execute the ball and this is the time when you want to be executing it, definitely."
Fesenmyer finished 3-for-5 with a pair of doubles, Macey Griesdorn went 3-for-4, Moeller and Hannah Homan each had multiple hit games. Seven of the nine Flyers in the order finished with hits.
"One through nine, I have faith in them every time they're up to bat. They're a great team to coach. They fight back every time," Overman said.
King, Kendra Rose, Liz Uhlenhake and Taylor Siegrist all had singles for the Redskins, who fall to 3-3 in MAC play and 8-9 overall.
"This is an unexpected day," Huelsman said. "We did not play our best softball. Obviously, Marion Local is a solid team, but for us, today was definitely an off day, especially going into tournament just needing rest mentally and physically. Hopefully, we can turn that around."
The Flyers travel to play Parkway today and the Redskins return to action Wednesday at home against Ansonia.