Friday, June 26th, 2015
Indians, Cavs split twin bill
By Colin Foster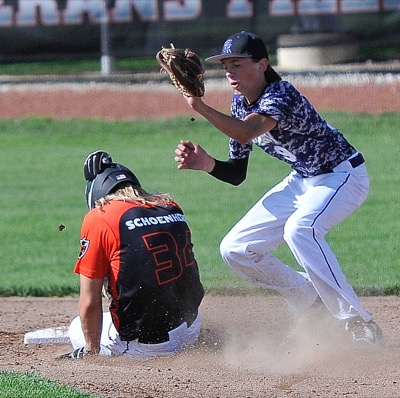 COLDWATER - The Fort Recovery ACME team entered Thursday's doubleheader at Coldwater the last area unbeaten team.
The Indians left Veterans Field with their first loss of the season, a 4-1 loss in the opener, but salvaged a split with a 3-2 victory in the nightcap.
GAME ONE
Fort Recovery stranded two runners on base in the first inning. The game ended on similar terms for the Indians, who left 10 stranded in the loss.
A mistake-plagued fourth inning by Fort Recovery allowed Coldwater to score three runs and pitcher Jack Hemmelgarn continued to keep the Indian offense at bay for six innings until reliever Aaron Harlamert locked down the save in the seventh.
With the score at 1-apiece entering the bottom of the fourth, Hemmelgarn (leadoff single), Nathan Grunden (error) and Sam Muhlenkamp (hit by pitch) loaded the bases for Brad Giere, who grounded into a 6-4 fielder's choice to score Hemmelgarn for what stood as the winning run. A long fly ball to left field by Harlamert, which would have been the final out, was dropped and two more runs scored.
All four runs given up during Kyle Schroer's time on the mound were unearned. The Indian right-hander allowed four hits, struck out a pair and walked three before exiting in the fifth.
"Kyle Schroer pitched a great game," Fort Recovery coach Kevin Eyink said. "He just came out and threw strikes. He doesn't throw a lot of off-speed. He has a good fastball, and we just made a couple errors. It really shouldn't have been 4-1."
The Indians had four hits through two innings but left five on base, including a bases-loaded situation in the second.
"We made some base running mistakes and probably tried to do some things that we shouldn't have done, and we ended up leaving guys on base," Eyink said.
Coldwater had stranded runners in scoring position in each of the first two innings. Kyle McKibben's two-out single in the third inning was Coldwater's first of the night. He advanced to second on an outfield error during the play and scored when Kraig Schoenherr looped a single to center on the next at-bat for a 1-0 lead.
Fort Recovery tied the game at 1-all in the top of the fourth. Kyle Knapke walked and moved to second on Hemmelgarn's errant pickoff attempt. Knapke later scored on Kyle Schroer's double.
Hemmelgarn (eight hits, two strikeouts) left the mound after six highly-effective innings giving way for Harlamert to earn the save.
GAME 2
Pitcher Chase Bruns put Fort Recovery in position to win with six strong innings of two-hit baseball.
The weapon known as Jackson Hobbs made sure that winning became a reality.
After doubling to start the bottom of the sixth, Hobbs stole third and the go-ahead run on a passed ball. Hobbs replaced Bruns in the seventh after he issued a walk to Nate Rindler to begin the inning. What followed were a strikeout and two grounders to second base for the final outs.
"It's a nice weapon to have when it comes down to the last inning and you're up one run. ... You put your best guy in there and he's able to pretty much shut them down," Eyink said.
An inning prior, in the top of the sixth, Coldwater had a chance to go in front but squandered away a first-and-third opportunity as Hemmelgarn got caught in a rundown on a botched suicide squeeze attempt.
"That was a key point of the game, and I thought it was the right situation. It just didn't work out for us," Coldwater coach Tom Brunswick said.
Kraig Schoenherr's first-inning RBI double scored McKibben all the way from first base after he had been hit by a pitch during the prior at-bat. Schoenherr later made his way to third and scored on a balk for a 2-0 lead.
Jacob Homan hit a double to lead the bottom of the second and Ben Homan's single put runners on the corners. A 4-3 fielder's choice RBI by Will Homan cut the Indian deficit to 2-1. Fort Recovery knotted the game at 2-apiece in the fifth as Hunter Boughman drew a bases-loaded walk.
Harlamert came on to replace starting pitcher Dylan Thobe and got out of additional trouble as the Indians left the bases loaded.
"I thought we got quality pitching in both games," Brunswick said. "Jack Hemmelgarn, who's been a reliever the whole year, gave us six good innings and Aaron was able to close it. I thought Dylan Thobe gave us a good start in the second game. He's been getting better each time and I think he's growing out there."
Bruns, not overpowering by any means, was effective and finished the night after having given up two earned runs, striking out four and walking five.
"Chase got ahead in the count a lot," Eyink said. "He's got a great curveball, change-up, a lot of off-speed. They struggled - anybody struggles - trying to hit off-speed, and he can do that and throw it for strikes. He did a great job on the mound."
Fort Recovery's Ross Homan was the only player with multiple hits in Game One, finishing 2-for-4. Will Homan added a diving catch in center which turned into a run-saving double play in the fifth. Ben Homan led all batters with a 2-for-3 showing at the plate in the nightcap.
Fort Recovery's record is now 6-1 on the season and the Cavaliers are 9-3.
"When you win the first one, obviously you want to win both of them," said Brunswick, "but if you look (at the scoreboard) and you've got two hits up there, it's tough to score when you've only got two hits."
Fort Recovery travels to Celina on Monday for a 6 p.m. doubleheader. Coldwater travels to Rockford tonight to face Parkway.