Monday, January 11th, 2016
Regatta canceled
By Claire Giesige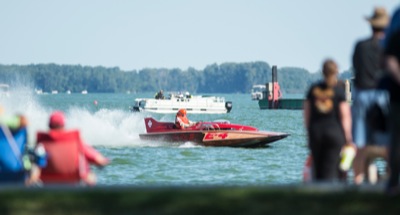 CELINA - The Ohio Governor's Cup Regatta, an area summertime staple, has been canceled this year due to declining numbers of participating racers.
"The main reason is the boat count. The last couple of years it's been going down here and at other races, too. We didn't feel it was fair to the sponsors to put up all this money and only have 24 boats," regatta co-chairman Myron Buxton said. "We're canceling this year and working with the (American Power Boat Association) to see what we can do to draw more racers."
Decreasing participation seems to be a common trend, he added.
"In 2013 we had about 42 boats here. In 2014 we had about 33 and last year we had 24, and it's not just us. There's a race up in Michigan where they used to get up to 100 boats in a weekend. Now it's down to 60," he said.
The regatta committee does not charge racers to compete because the race is funded through sponsorships. However, racers do pay racing and insurance fees to the APBA, committee member Allen Baskett said.
"Our concern is as the cost of racing goes up, it becomes less attractive to racers. We don't charge them to come here but the racing commission does charge fees," he explained. "We're trying to see if the APBA can come up with some ideas to encourage those racers to come out and race."
Committee members are seeking advice from the APBA while they take this year to regroup, officials said. They are already seeking input from racers about how to make the event more attractive.
"We've tried since September to get a better feel, contacting other race sites and the racers themselves to see what we could do to improve our race counts, and no one gave us a definite answer," Buxton said.
Racing is expensive, Buxton pointed out.
"I own a boat. ...we'll spend anywhere from $500-$1,000 for a weekend and I go in knowing I won't win because I have an older boat," he said. "Some races pay a set amount, like $200-$400 for mileage, expenses, things like that, to help a bit with costs. But no one is giving us answers of how much it would take to get them here."
Buxton said the racers who do attend are typically very enthusiastic.
"We've been told we have the top two or three race sites in Ohio from the racers. We don't understand, if that's the case, why don't we get the boats?" he said. "And of all the races I've been to, this is the closest you can get to the course (as a spectator)."
The event is offered at no charge to the public, something the committee is not looking to change.
"Others charge to get in but we'd like to keep ours free," Buxton said. "It's just a great community event."
As a free event, sponsorship is key to maintaining the tradition. He estimated last year it took $50,000 to run the race.
Baskett said fewer boats meant decreased show value.
"In years past we've had anywhere from 50-75 boats here racing. ... It puts on a better show than just sending out a few," he said. "It's hard to get sponsorships when you're not able to put on the show people are used to."
The regatta, which was restarted in 1995 after its initial 1958-1970 run, was canceled in previous years. In 2010, the competition was canceled due to blue-green algal toxins in the lake and in 2012, organizers were forced to cancel because of low water levels. The regatta was nearly nixed in 2013 before last-minute contributions saved the day.
Buxton does not believe the cancellations or the lake's unhealthy algae kept away racers.
"We've had drivers ask about the algae but we drive boats at 100 miles an hour. It's those sudden stops that scare them more than the algae," he said. "I think the racing community is just changing for some reason, but I don't know why."
The latest cancellation is not necessarily permanent, either. Officials hope this will be only a one-year pause in the action.
"Hopefully this will get the attention of the officials at APBA and get them to take a look at what they can do to help," Baskett said.
Buxton hopes the regatta will return.
"Our sponsors have been great over the years. It's all about tourism, getting people to come here and see what Celina is all about," he said. "Others have been hit with this, too. Hopefully, we'll come back and be stronger than ever."