Monday, January 11th, 2016
Roughriders win over Lehman
By Dave Stilwell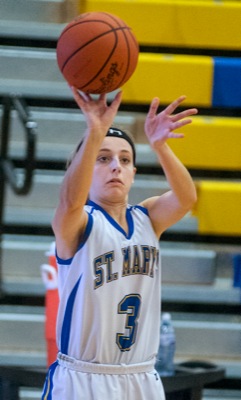 ST. MARYS - St. Marys shot 75 percent from the floor and raced out to a 23-10 first quarter lead over Lehman en route to a 68-42 victory Saturday afternoon at Murotech Court.
The Roughriders built on the lead at each quarter stop and improved to 9-4 on the season in winning four of their last five games.
"We alway want to go out and start strong during the first couple minutes of the either half," St. Marys coach Nikki Miars said. "It's a confidence thing. We get going  early, and that helps us as the game goes along."
Six different Roughriders scored in the first quarter, which set the pace for a balanced attack with three girls in double figures.
"This is a good win for us," Miars added. "Offensively,  I thought we were really unselfish as a team today. We passed the ball well and got it to the people."
Shania Taylor was open more than most. She was 9-of-13 from the floor and finished with a game-high 21 points. Lindi Cisco and Erika Angstmann added 11 and 10 points respectively.
St. Marys also got good production from its bench. Makayla Koch scored eight points and Makenna Mele pulled down nine rebounds.
The Roughriders held a 44-25 edge on the boards, which helped ease the pain of 22 turnovers.
"Crashing the offensive boards hard is always one of our objectives," Miars said, "and it paid off today with a lot of second chances and put-backs."
Allison Hall paced the Lehman Cavaliers with 13 points. Brogan McIver added nine. With the loss, Lehman saw its record slip to 5-7 on the season.
St. Marys hosts Elida in Western Buckeye League play Thursday and then entertains Auglaize County rival New Bremen on Saturday afternoon in an MAC vs. WBL contest.