Saturday, January 14th, 2017
Woman's therapy dog is just what the doctor ordered to brighten lives
By Georgia Rindler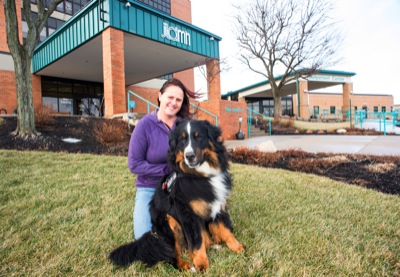 COLDWATER - Enzo is the star of the team - wherever he and Angela Kaiser go, the Bernese mountain dog first gets everyone's attention.
A 98-pound, fluffy dog walking into a hospital room brings smiles to most faces. Kaiser talks while Enzo sits patiently at her side. He loves to be petted and will snuggle up next to anyone who allows it. 
Two-year-old Enzo is a certified therapy dog who visits local hospitals, nursing homes, libraries and schools.
"Adding pet therapy visitation to the hospital would allow us to bring comfort to acute-stay patients, patients recovering from procedures and those facing terminal illness," said Julie Jacobs, Grand Lake Health System's Volunteer Development Coordinator.
Kaiser and Jacobs recalled one of the first visits in St. Marys. The team visited a man with stroke-like symptoms who was undergoing physical, occupation and speech therapies. He was improving but still struggling. Upon their arrival, he started talking.
"He was speaking with Enzo," Kaiser said. His words were not clear, but he was opening up. His daughter standing nearby had tears in her eyes. Unknown to Kaiser, he had not spoken in several days.
"It was very moving," she explained. "Times like that are really special."
"It was a great way to start the visits," Jacobs added.
Employees ask patients if they are open to a visit. About 95 percent agree. Before each visit, Kaiser receives a list of approved rooms. They will never go anywhere unannounced and always ask if they are welcome before entering. A visit can last five to 30 minutes. If the focus strays from Enzo, he contentedly lies down.
"Pet visitation is an experience that one would not expect in a hospital," Jacobs said. "It brings joy and diversion for the moment."
Dogs' presence has a calming, relaxing experience, Kaiser said. They carry a nonjudgmental approach to everything.
"They give unconditional love," she included. "Whatever the situation, a therapy animal can bring peace of mind to residents, patients, family and employees." Along with the voluntary pet therapy, Kaiser also offers a sitting, grooming and dog walking service called Smiling Woof. She said dogs offer unconditional love and just want people to love them back.
JTDMH officials are testing the visits, and much red tape and paperwork must be completed before regular visits begin.
"There are concerns that need to be addressed, precautions taken, and proper staff education needs to occur," Jacobs said. "Education is the most important aspect to any new program. It is still a work in progress - for now we are excited to have Enzo visiting patients on TCU/IRU and look forward to the future."
"Enzo has made rounds to nonpatient care areas to visit staff," she said. "Everyone enjoys a break from the everyday. Small things, like a dog visitation, can brighten up someone's day, boosting morale and overall experience."
Kaiser and Enzo are approved to visit Briarwood Village in Coldwater and the Transitional Care Unit and Inpatient Rehab Unit at Joint Township District Memorial Hospital in St. Marys. They typically make two-three visits per week.
Kaiser adopted Enzo at 10 weeks old from a breeder while she was living in Sarasota County, Florida.
 "Enzo is such an easygoing, mellow dog. We knew he'd be really great for this work," she said.
He attended classes at the Sarasota Obedience Training Club before advancing to therapy dog training. He became a Canine Good Citizen through an American Kennel Club program. After that training, the duo advanced to the therapy dog certification process.
Through the Humane Society of Sarasota County, Kaiser contacted Alliance of Therapy Dogs, one of several groups offering therapy certification.
  Certification included several steps. An ATD representative initially ensured the dog and handler had a good relationship and the dog had the right temperament. A  tester/observer went to facilities with the pair three separate times to observe how the dog reacted to sudden noises, medical equipment and in unfamiliar settings. The observer assessed the dog's attitude, friendliness, manners and obedience and the team's interactions.
The evaluation form noted "Angela and Enzo make a great team."
Most of their work in Florida took place in nursing homes and schools. The program has been common there for 10-15 years, Kaiser noted. It is extremely popular due to the elderly population and an abundance of assisted-living facilities. They volunteered at multiple facilities, and Enzo especially liked working with children, relating well to their higher energy level.
In March 2016, Kaiser and her husband, Mike, returned to Ohio after living in southern states for 20 years. She is originally from Cincinnati, and he is a Coldwater native. Several factors led to their return.
"One of the top five reasons was to offer the dogs more winters of cold and snow," she said.  The big, fluffy dogs like the cold weather. In addition to Enzo, they also have two great Pyrenees and a smaller rescued border collie.
To keep their certification, Kaiser and Enzo must do at least one therapy visit every three months. ATD carries a $5 million insurance policy and dogs must have an annual wellness exam. Any breed can be certified - the dog's personality, not the breed, determines if the dog will be a good therapy animal.
All visits are volunteer.
The Bernese mountain dog is a working, farm dog from Switzerland. Pairs would pull milk carts into town and return without supervision. Kaiser said they are good protectors because of their size, but they are really sweet, loving and friendly.