Saturday, January 14th, 2017
Cavs edge Panthers
By Colin Foster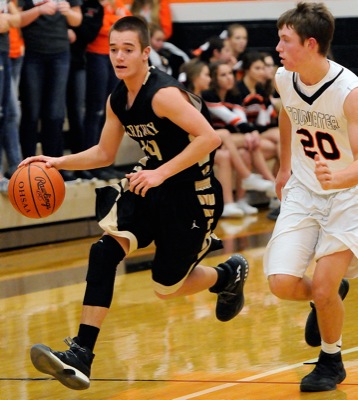 COLDWATER - Parkway and Coldwater went back and forth for the majority of 32 minutes on Friday night.
A brief stretch in the fourth quarter ended up being the deciding factor.
Sam Broering scored six points in the span of 30 seconds and then Dylan Thobe added a three-pointer as the Cavaliers edged the Panthers 59-52 at the Palace.
"A typical MAC game can go like that. Whoever makes the run at the right time is going to come out on top," Coldwater coach Nick Fisher said.
A game that was chosen for The Daily Standard's "Friday Night Spotlight" piece turned out to be entertaining from start to finish.
The score was tied five times in the first quarter and remained locked at 16-all when it ended.
The Cavaliers opened the second quarter on a 7-2 run. The Panthers responded with a 7-0 run to briefly regain the lead. But the game was once again deadlocked when the horn sounded, this time at 29-apiece.
Fourteen different players scored during the first half (seven for Parkway, seven for Coldwater). Leading Parkway were Andrew Baker and Caleb Kinney, who had eight apiece. Marcus Bruns had a half-high nine points for Coldwater.
In the opening 2 1/2 minutes of the third, the Panthers took their largest lead of the night at 36-31. The Cavaliers would lock in defensively and held the Panthers scoreless over the final 5 1/2 minutes of the quarter. Parkway was 1-of-11 shooting in the frame, and Derek Albers' inside stickback with one minute remaining allowed Coldwater to reclaim a 37-36 advantage entering the fourth.
"We maybe got too tricky in the first half by trying to play multiple defenses," Fisher said. "We just basically went to man-to-man and we played a little bit of zone also in the second half. We pressed them once or twice to just to mix it up, but we mainly stuck to man. We thought our athletes could defend them better just by getting back defensively and playing good, solid man."
The lead swapped hands four times early in the fourth. Coldwater led 41-40 with 6 minutes remaining when Broering splashed a three-pointer. After a stop on the defensive end, Broering converted a hoop-and-harm three-point play and shortly after, Thobe got the shooter's roll on a trey from the top of the key. The Cavs were in control the rest of the way.
"Sam's just such a heady player, and I thought he did a helluva job defending (Mason) Baxter, too," Fisher said of Broering, who scored seven of his 10 points in the final quarter. "We talked to him all week about how (Baxter) has some range and can shoot the ball well from the three-point line. I thought Sam did a good job of not giving him any space to get his shots off.
"Offensively, he was one of those guys coming in from football who wasn't in great basketball shape. He's got his legs now and he's obviously starting to shoot with some confidence."
Baxter, Parkway's leading scorer coming into the game at 13.4 points per game, was held to four points on 1-of-6 shooting. Logan Huff (15 points) and Nick Hawk (11 points) led the way for Parkway, which fell to 3-7 overall and 0-3 in MAC play.
"They went on a little 7-0 run there and that pretty much ended up being the difference in the game," Parkway coach Doug Hughes said. "I didn't think we got good offensive looks during a small stretch of time and that's my fault for trying to run some sets on the fly with young guys. Offensively, we just didn't get good looks and defensively, we had some breakdowns. It was minimal, it was a 2-3 minute stretch where we had some breakdowns, but it really hurt us."
Parkway has now lost 15 straight games to Coldwater. But as Fisher was quick to point out, the Panthers are making strides under Hughes.
"I just have the utmost respect for Doug Hughes," Fisher said. "I've known him for a really long time. He had a really good run at Botkins. I respect what he did when he was there. I think in time he'll have the same kind of success that he did at Botkins at Parkway."
Bruns scored a game-high 18 points and pulled down 10 rebounds for Coldwater, which improved to 4-5 and 2-1 in the MAC. Albers also notched a double-double with 10 points and 11 rebounds.
Both teams are back in action tonight. Parkway travels to face Perry and Coldwater hosts Celina.