Thursday, January 26th, 2017
Celina native co-anchors major events
By William Kincaid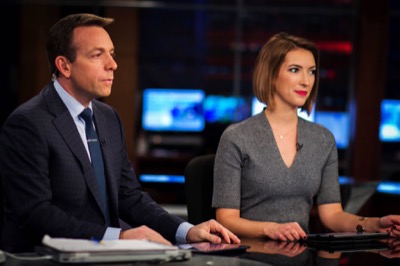 WASHINGTON - Celina native Ellen Bryan's profile in the news industry continues to rise as the 28-year-old Ball State graduate co-anchored WUSA 9's morning show over a historic weekend.
Bryan, from inside the studio of Washington, D.C.'s CBS-affiliated TV station where Walter Cronkite once worked, presided over live newscasts of the 58th Presidential Inauguration and the Women's March on Washington, while the two regular news anchors reported from the field.
Bryan said it was an amazing yet exhausting few days of work as thousands of people flooded the nation's capital, either to support the new president or fulminate against him.
"This weekend we had more people covering the protest than we did on the inauguration," Bryan told the newspaper.
The size and intensity of the protest were much more pronounced than those at previous inaugurations, Bryan said a senior producer had told her.
She noted that the protests in Washington, D.C., - very much a Democratic city - began in November after Trump's election, with demonstrators rallying outside Trump Hotel.
More people, though, turned out for Saturday's Women's March on Washington.
Bryan noted that according to her channel's reporting, 193,000 trips had been taken on the Metro rail system by 11 a.m. on Inauguration Day.
In stark contrast, by 11 a.m. Saturday, the day of the march, 275,000 people had taken Metro trips. When it was all said and done, more than a million Metro trips were registered on Saturday, more than eight times the normal Saturday fare and the second most on a single day, according to WUSA.
"It was insane," she said about the traffic, both human and vehicle.
Bryan said she interviewed march organizers on Thursday. She was impressed with how a grassroots initiative, originating from a grandmother's online post that went viral, ballooned into a massive outpouring of people from across the land.
Bryan, the daughter of Kent and Virginia Bryan of Celina, was hired by WUSA 9 in April as a multimedia journalist. In addition to occasionally co-anchoring, Bryan specializes in traffic reports, human-interest profiles and other news.
"I love the morning time frame. I really enjoy doing traffic, too," she said.
Bryan said she had her eyes set on Washington for some time as there's so much action in the city. Also, her sister Andrea Swiatocha, who has lived in the city for eight years, welcomed her, Bryan said, later adding that one of her favorite activities is running around the National Mall with Andrea.
And Celina continues to show great support for its Miss Lake Festival 2008 by following her on Twitter @EllenBryanWUSA9 and on Facebook at EllenBryan-Journalist, Bryan said.
Prior to joining WUSA 9, Bryan worked as a reporter for KXAS Channel 5 in Dallas and as an anchor/reporter for WTVQ Channel 36 in Lexington, Kentucky.
She graduated from Celina High School in 2007 and Ball State University in 2011.
In June 2011, Bryan was crowned Miss Ohio. That August she embarked on an 850-mile trip throughout Ohio to raise money for Children's Miracle Network Hospitals, stopping at schools, hospitals and civic organizers.
She was accompanied by friends and family, including her father.
She later went on to compete in the Miss America 2012 pageant at Las Vegas' Theatre for the Performing Arts in Planet Hollywood Resort and Casino, where she was named a finalist for the Quality of Life award and also received a Duke of Edinburgh gold medal for community service.