Thursday, January 26th, 2017
Coldwater advances
State Wrestling Team Dual TournamentCavaliers beat Jefferson to advance to regional semis
By Gary R. Rasberry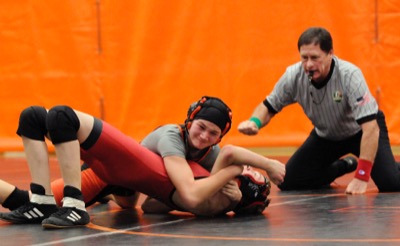 COLDWATER - Paced by six pinfall victories, Coldwater advanced in the Division III state team duals wrestling tournament with a 50-26 win over Delphos Jefferson on Wednesday night at the Palace.
The Cavaliers advance to the regional quarterfinals next Wednesday at a site to be determined. Coldwater takes on fellow MAC team Versailles, which defeated Bluffton 67-6 in Versailles in a regional quarterfinal. The other regional semifinal pits Mechanicsburg against Miami East.
"We've been wrestling well the last month or so," Coldwater coach Rob Schmidt said. "We keep making improvements. This time of year, you hope to keep on making improvements.
Jefferson, which defeated fellow Northwest Conference squad Spencerville 58-22 in an opening round match, trades forfeit wins with Coldwater in the first two bouts due to not fielding wrestlers at 106 and 113 pounds. At 120 pounds, the Wildcats took the first contested bout when Andrew Foust pinned Koby Boggs in 4:54.Coldwater rebounded with back-to-back wins as Ashley Tobe pinned Johnathon Brooks in 2 1/2 minutes at 126 pounds and then Justin Sigler pinned Taylor Thompson in 3 1/2 minutes at 132 pounds.
Jefferson won at 138 via the void and added a win at 145 when Wyatt Place won a 16-0 technical fall over Reece Thomas. The Cavaliers responded with consecutive pins by Seth Obringer (over Ben McKee) at 152 and Andrew Meyer (over Cooper Chung) at 160. Tyler Hemmelgarn added a 16-0 technical fall victory over Kane Plescher at 170 to make the score 35-23.
David Grant won a 6-4 overtime decision for Jefferson over Desmond Brown at 182, but that was the last Wildcat win as Zach Meyer pinned Jordan Bonifas at 195, Zach Klosterman decisioned Spencer Wannemacher 8-1 at 220 and Thomas Schwieterman pinned Jayden Moore in 90 seconds at 285 to end the night.
"Everyone did their job," Schmidt said. "We didn't give up too many pins (one). Everyone wrestled well. All four seniors (Tobe, Andrew Meyer, Hemmelgarn and Klosterman) got a win wrestling here for the last time."
Division II at Valley View
Celina won its opening round match against Greenville 70-7 but lost to host Valley View in a close 39-36 battle that came down to the last bout.
Against Greenville, the Bulldogs received pinfall wins from Sam Warner at 120 pounds, Aric Gallimore at 138, Austin Hines at 145, Tim Ferrell at 182, Cory Fortkamp at 195, Cayden Thomson at 220 and Gavin Nash at 285.
In the regional quarterfinal against Valley View, Celina trailed 16-0 early before Logan Keiser scored a pinfall victory at 126 pounds. After Valley View won the next two bouts via pin, Celina got a pinfall win from Hines at 145. Nick Garwood won 5-3 in overtime at 152 and Logan Muhlenkamp 13-10 before Luke Muhlenkamp (170) and Ferrell won via pinfall. Valley View won at 195 and Celina received a forfeit win at 220 to make it 36-33 Celina. In the final match at 285, Valley View won via pin to capture the match and advance.
Division II at Graham
St. Marys won a hard-fought 41-25 battle in its opening round match against Urbana but ran into a buzzsaw with the perennial state powerhouse Graham and lost by a score of 80-0.
Against the Hillclimbers, the Roughriders received pinfall wins from Parker Enoch at 120 pounds, Austin Drummond at 126, Noah Vogel at 160 and Nicholas Myers (285).
Graham, which has won all four Division II state dual match championships, was no match for St. Marys in shutting out the Roughriders. The Falcons won eight matches via pinfall. Graham went on to beat Bellefontaine 76-0 to advance to the next round.
Division III at Versailles
Parkway made its debut in the state team duals tournament, losing to Bluffton 43-30 at Versailles.
All five Panther wins came via forfeit when Bluffton was unable to field a wrestler in a weight class.