Friday, January 27th, 2017
Andersons named grand marshals
Celina Lake Festival
By William Kincaid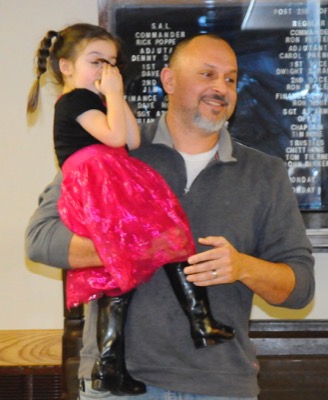 CELINA - Organizers of the 2017 Celina Lake Festival have asked a special family to carry out this year's theme: A Festival of Friends and Family.
The Anderson family members, who fought in the courts for custody of adopted daughter Maddy for 13 grueling months, were named grand marshals of this year's parade. The family consists of Brian Anderson; his wife, Kelly; their adopted children Maddy, Alex, Joel, Trey and Kate; and biological children Breah, Jay and Aiden.
The selection was revealed at Thursday night's Celina Lake Festival Kickoff Dinner. This year's festival will be held July 28-30.
Festival committee member Monte Diegel invited Brian Anderson to the event under the pretext of giving a talk about the adoption case to tie in with the festival's theme this year.
The Andersons were Maddy's foster parents from the time she was 13 days old until she was 20 months. During that time a bond was created, which was evident to the birth mother, who petitioned for the adoption. However, Maddy was taken by Allen County Children Services on March 16 and placed with a relative in Indiana until Oct. 21, when the Ohio Supreme Court ruled the Mercer County court could grant the adoption.
"With the theme of Lake Festival this year, I think our case, everything we went through to do what was right for Maddy, and all the community support we had, I think that very much exemplifies the values of this community in general," Brian Anderson told the crowd at the Celina American Legion Post 210.
During the difficult time, he said his family had a lot of support from friends, the community and even strangers. Fundraisers were held unbeknownst to the family.
"As more and more things started to happen and as the story started to get out there, it seemed like more and more people stepped up to help us in the fight that we had," he said.
Diegel, who said he's worked many shifts with Brian Anderson at the Celina Fire Department, then informed the father that his family had been chosen as parade grand marshals. Anderson accepted the invitation.
"We'll have a bus or something for the entire family, something huge," Diegel quipped.
Committee members and master of ceremonies Jonathan Williams said the public prompted the selection of the Anderson family.
"There was outreach from the entire community," he said. "We usually don't get people saying, 'Hey, what about these people?' That's what happened this time."
Diegel also had another surprise in store for 18-year-old Breah Anderson, who will compete in the 2017 Miss Lake Festival Scholarship Competition.
"You need a sponsor, correct? I'm happy to announce you have one," Diegel said, noting the fire department will fill that role.
Festival organizers also said this year's entertainment will be Lima-based rock band "Blame It On Shorty" on Friday night and Pennsylvania-based The Beatles tribute band "Hard Day's Night," which will perform a two-hour show on Saturday night, complete with costume changes.
The Miss Lake Festival Scholarship Competition, a Miss Ohio Pageant preliminary, returns for the 62nd time this year. The Miss Lake Festival Outstanding Teen competition and the Miss Lake Festival Princess Camp also will be back.
Other returning events this year include a fireworks show, the car show, cruise-in, Amphicar swim-in, craft show, children's fishing derby and lift-a-thon. Craft vendors will again set up shop in Lakeshore Park.
The U.S. Freshwater Boaters Alliance will again provide free pontoon boat rides during the weekend.
"You guys do an excellent job with this organization. All of you," Lake Improvement Association President Tim Lovett told organizers. "We're honored to be part of it."