Friday, January 27th, 2017
Minster bounces back
Wildcats tame Tigers for sole possession of first in MAC
By Colin Foster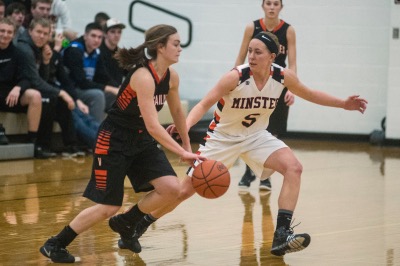 MINSTER - The Minster girls' basketball team fell for the first time last Saturday.
But on Thursday, the Wildcats got back up and proved they're still the class of the Midwest Athletic Conference until proven otherwise.
Courtney Prenger scored 15 points, Rosie Westerbeck added 13 and Minster built up a 19-point lead in the third quarter and then held off Versailles for a 59-51 victory in a battle of state-ranked, MAC unbeatens at Wildcat Gymnasium.
The Wildcats, who had their bid for a perfect regular season end last Saturday with a 49-46 loss at Ottoville, extended their MAC winning streak to 22 games. They improved to 14-1 overall and 6-0 in MAC play. Versailles fell to 15-3 and 6-1 in the MAC.
"Us losing to Ottoville last week may have been a really good thing, because we played with an edge tonight and I was happy to see it," Minster coach Mike Wiss said. "We had a good week of practice. We did not like what happened to us last week. We got shoved around a little bit. We got smacked. We got beaten up and our egos got bruised. We came in tonight with our shoulders laid back. We were relaxed and we had that edge. I'm so proud of them. It was the most energy we've had for four quarters all year."
The game was locked at 7-all midway through the first quarter. That was the last tie of the game. Minster closed the first on an 11-3 run to grab an 18-10 lead. The Wildcats made 7-of-13 field goals and had just one turnover in the frame. Versailles, however, hit just 4-of-13 field goals and 1-of-6 free throws while committing six turnovers.
The Tigers ended the half 8-of-24 shooting and 4-of-12 from the charity stripe. Rosie Westerbeck had 10 points by halftime and Kendra Thien came off the bench to score five points in the second as Minster went in front 33-21.
The shooting struggles continued in the third for the Tigers, who opened the quarter 0-for-6. Within the first two minutes, Westerbeck hit a pair of free throws, Alli Fischer drained a three-pointer and Ali Borgerding scored off of a turnover to give Minster a 40-21 advantage.
However, it was all Tigers over the final six minutes of the third. They closed the quarter on a 14-6 run to bring the deficit to 46-35.
And then it got interesting in a hurry once the fourth began.
Kami McEldowney swished back-to-back treys and Elizabeth Ording added a layup to cap an 8-0 run that made it a 46-43 game with five minutes remaining.
"Those two threes really woke the Orange and Black from Darke County up," Wiss pointed out.
But the Wildcats remained in attack mode offensively and didn't allow Versailles to get any closer.
Prenger had a hoop-and-harm three-point play with 3:15 to play and then added a bucket the next trip down to extend Minster's lead to seven points. Taylor Kogge hit 3-of-4 from the foul line to help ice the game for good.
"We were playing with the clock a little bit and when you start to play with the clock, sometimes you can be a little bit too careful with the ball," Wiss said. "But we continued to attack until there were two minutes left. We got the ball to Courtney on the block and she shoved and did what she could. Rosie got herself into the paint. ... I was just happy with the fact that we didn't play careful or try to play stall ball."
"In the third quarter, we got down 18-19 points and you can't do that in a varsity basketball game and that's what hurt us," Versailles coach Jacki Stonebraker said. "We had some mental lapses on defense. We turned the ball over offensively. We didn't hit the boards very well today. I know we missed shots, but we've got to clean up those boards."
McEldowney scored a game-high 23 points for Versailles. Ording added eight.
The Tigers finished 17-of-51 shooting and 14-of-25 from the free throw line.
Kogge scored seven off the bench for Minster. Thien, Borgerding, Fischer and Lindsay Roetgerman all chipped in five points apiece.
The Wildcats host Russia on Saturday and then will turn their attention to finishing another unbeaten run through the MAC. Remaining on the conference schedule for Minster are Marion Local (away, Feb. 2), New Knoxville (away, Feb. 9) and Fort Recovery (home, Feb. 16).