Wednesday, February 1st, 2017
Knapke has big night for Rockets
Marion grad shines in loss to Ball State
By Gary R. Rasberry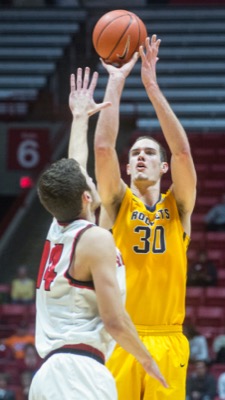 MUNCIE, Ind. - Tuesday's game at Ball State was like a homecoming game for Luke Knapke.
The Marion Local graduate made his first trek to Muncie as an active player as his Toledo Rockets took on Ball State in Mid-American Conference West Division play at Worthen Arena.
With a hearty group from the Marion Local community making the just over an hour trip across the state line to watch, Knapke played one of his best games of the season in the Rockets' 81-80 loss to the Cardinals.
Knapke, a redshirt freshman, scored 18, just missing his career high by a point, as he made his eighth start of the season for the Rockets.
"We showed a lot of heart tonight," said Knapke. "We just didn't make plays down the stretch and fell a little short."
"We had (Jonathan) Williams, our playmaker, out tonight (due to illness). We missed him and we had to have some guys step up tonight," said Knapke, who has appeared in all 22 games this season for Toledo.
Knapke, who entered the game averaging 6.5 points and 3.7 rebounds per game, scored the opening bucket of the game as the Rockets jumped out to a 10-0 lead on the Cardinals. Knapke made all three of his first half shots, including 2-of-2 from the three-point line, to help Toledo lead Ball State 46-44 at the half.
The Cardinals, leaders in the West Division coming into the game, took over the lead midway through the second half and were up by as many as nine with 4 1/2 minutes to play, but the Rockets staged a rally, led by Knapke hitting another three to get the Rockets within a possession at 79-76 with 1:14 left. Ball State iced the game with free throws from Francis Kiapway despite another trey from Jaelan Sanford with less than a second to go.
Knapke was 6-of-10 from the field, including 4-of-5 from the three-point line.
"That's something I've been working on the last couple of weeks," said Knapke, who entered the game hitting 5-of-10 from beyond the arc.
"I've been putting up more threes in practice. I've been getting opportunities in games but haven't been able to take them. Tonight I stepped up."
Knapke also pulled down five rebounds and blocked two shots.
Knapke can tell how improved his game has become since the start of the season.
"I've become used to the defensive side of the game," Knapke said. "I have to talk more on defense. That's what I really had to do."
Steve Taylor Jr. had a career high 23 points and 18 rebounds to lead Toledo. Sanford added 15.
Ball State (15-7, 6-3 MAC West) was led by Tayler Persons' 24 points. Franko House added 19.
Toledo (11-11, 3-6 MAC West) returns to action on Saturday with a short trip down I-75 to face rival Bowling Green at the Stroh Center. The Rockets beat the Falcons 85-75 in the teams' first meeting in January at Savage Arena. Knapke had 12 points and seven rebounds in the win.