Friday, February 10th, 2017
Runaway pony finds new home
By Tom Stankard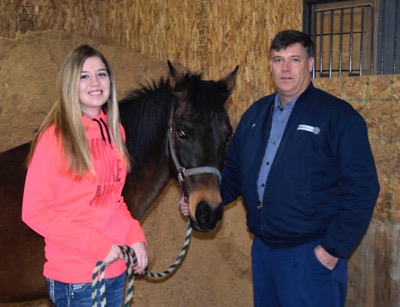 ROCKFORD - The pony reported missing in January near Rockford has been corralled and now has a new owner.
Upon receiving word the animal was still missing, Don Ballinger, Coldwater, and his daughter, Sheldon, 15, drove to Rockford on Saturday afternoon, mounted their horses and corralled the missing pony into a temporary enclosure they had set up near state routes 707 and 49. Catching it, he said, took about 2 hours.
After learning the animal's previous owners didn't want it back, the Ballingers agreed to adopt Peanut, a female, quarter pony that's more than 20 years old, Ballinger said. Peanut is in good shape and in good hands, he added.
She will "happily" look after the pony, said Sheldon Ballinger, who has been riding horses since she was 3 years old.
"I always like riding and have a passion for them," she said. "I'm glad that she has a home and is not on the loose. She's cute. I will enjoy getting to know her and help her trust people again."
The family owns a couple of other horses, Don Ballinger said.
Reports of the missing pony began in the middle of January. Mercer County Sheriff's Capt. Doug Timmerman had told the newspaper that deputies tried to lasso or corral her but failed every time because she was "skittish."
Timmerman thanked area residents for their concern over the pony.