Friday, February 10th, 2017
Tigers victorious on Senior Night in St. Henry
By Colin Foster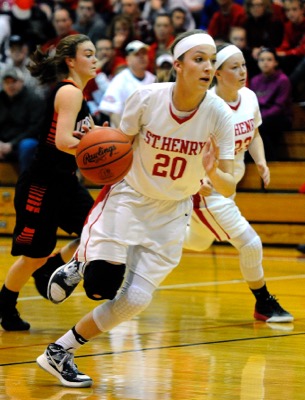 ST. HENRY - St. Henry got the start it wanted, just not the end result.
The Redskins outscored Versailles 8-2 to begin the game, but the Tigers followed with a 9-0 run and never trailed again in a 68-45 victory at Redskin Gymnasium on Senior Night.
"They're a very good team. They have great size and they're well balanced," St. Henry coach Kurt Huelsman said. "They can score inside and out. We just had a lot of defensive breakdowns, not just on rebounds but also in transition when we would let them dribble all the way up the floor for a layup or dish it off for an easy two points."
Kami McEldowney scored 21 points, Danielle Winner added 15 and the seventh-ranked Tigers opened up a 30-point lead at one point in the third en route to improving to 18-3 overall and finishing the Midwest Athletic Conference season 8-1.
The Tigers, who finished with 13 second-chance points in Thursday's win, currently share second place in the league with Fort Recovery, which has two league games remaining. A win by the Indians in next week's game with Minster would give Versailles a share of the MAC title.
"It's been a very competitive MAC season for us," Versailles coach Jacki Stonebraker said. "I felt like we played every game to the best of our potential. There's a couple things I wish we would have done better. Overall, these girls really did a nice job of withstanding the test of the MAC schedule. It's out of our hands right now. We just have to keep playing and look forward to tournament."
Thursday's game was another tough MAC game for the Tigers, early anyway. They eventually used their pressure to turn to the tide for good.
Alexis Ontrop scored four points to lead an 8-2 St. Henry run in the opening five minutes of the game. The Tigers were held scoreless until the 3:35 mark of the first when Camille Watren drove to the hole unchecked for an easy layup. Redskin turnovers would eventually spark a 9-0 run by the Tigers to close the quarter that gave them an 11-8 lead.
St. Henry had eight turnovers in the first quarter and added seven more in the second.
The Redskins hung tough momentarily. Kendra Rose's three-pointer made the score 16-13 early in the second. Versailles' Danielle Winner went on to net seven points as part of a momentum-shifting 10-0 run. The Tigers won the quarter 23-11 and held a 34-19 cushion at the intermission.
McEldowney did the bulk of her damage in the third quarter, scoring 10 points in the span of four minutes to extend Versailles' lead to 53-23.
"(McEldowney) led us," Stonebraker said. "She struggled from the outside but she got some easy points inside, went to the free throw line, fixed her shot a little bit and did hit a couple from the outside later in the game."
St. Henry's Kendra Rose scored 12 points on a perfect 4-of-4 shooting in the third quarter and finished with a team-high 17 points. Her classmate Ontrop added six points and six rebounds and Danielle Lange scored 11 points.
"(Rose) played really, really hard," Huelsman said. "She stepped up and she's done that all season when we needed her to. I give props to our seniors. This is a very tough game to play on their senior night. They came out and they battled and they fought hard."
St. Henry (8-13, 2-6 MAC) will travel to Parkway for the MAC finale next Thursday.