Saturday, February 11th, 2017
Standing guard
Local ag officials fear outbreak of avian influenza
By Nancy Allen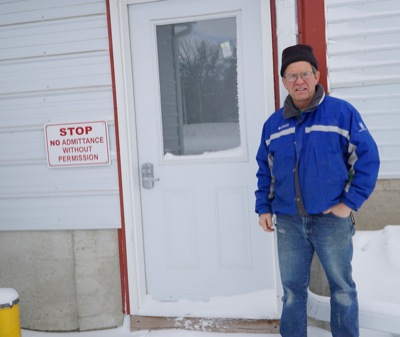 U.S. officials are keeping an eye on an avian influenza outbreak in Europe and Asia and hoping the devastating disease doesn't come here.
Researchers fear wild migratory birds could bring the disease to the U.S., which two years ago suffered the worst outbreak of the disease in commercial poultry flocks.
Local ag officials are also keeping tabs on the outbreak and continue to stress biosecurity to keep the disease at bay.
"The main risk we feel right now is getting the virus tracked into one of our barns or one of our customers' barns," said Tim Barman, veterinarian for Cooper Farms, which has millions of turkeys and egg-laying chickens in and around Mercer County. "It's a state of mind. Always be thinking of where you've been, where you are and where you are going."
An avian influenza outbreak would be financially devastating in Mercer County. The county typically ranks first in Ohio for agriculture income from poultry, followed by Darke County. An outbreak also would impact grain farmers who grow corn and soybeans for poultry feed. Cooper Farms officials have been working with contract growers to beef up biosecurity since the 2015 U.S. outbreak.
Barman said around Christmastime a wild duck shot by a hunter in Montana tested positive for the H5N2 strain that hit the U.S. in 2015. This indicates the virus is still circulating in the wild bird population. 
In 2015 the disease killed more than 50 million commercial birds in 14 states and cost $3.3 billion. Iowa was hit the hardest, with layer-hen flocks so decimated that the state dropped to No. 2 in egg production behind Ohio. The disease did not infect any domestic flocks in Ohio in the last two years.
The disease is spread through the droppings of wild waterfowl such as ducks, geese and shorebirds. Humans and vehicles can transmit the disease to domestic flocks when they walk or drive through droppings.
The survival rate for infected poultry is very low, Barman said, with turkeys being more susceptible than chickens. Infected birds that survive are euthanized to control the spread of the virus. The illness can kill nearly an entire flock within 48 hours, Barman said.
The virus poses no threat to food safety or human health, officials say.
OSU Extension poultry veterinarian Mohamed El-Gazzar said the possibility of a new outbreak in North America this year is very real.
The situation in Europe and Asia is frighteningly similar to what happened in 2014, El-Gazzar said. The 2015 virus that killed millions of birds in the U.S. was genetically related to an avian influenza virus that had circulated in Asia and Europe throughout 2014.
"Front and center is biosecurity emphasized by the USDA, the Ohio Department of Agriculture and industry, scientists and the university," El-Gazzar said. "There is no vaccine, no antibiotics, no drug treatment or chemical substance available."
Barman said industry officials learned after the 2015 outbreak that biosecurity and reaction time were weaknesses. Humans are one of the biggest vectors of the disease.
"They learned that biosecurity wasn't what they thought it was," Barman said. "When you get an outbreak you don't want to wait before you depopulate flocks. The longer you wait, the more virus is produced and the bigger risk you have in spreading it in the area."
Ron Wilker, who has a 317,000-layer-hen operation near St. Marys, said he uses numerous biosecurity measures.
"From what we did five to 10 years ago, nobody would have dreamed they would be doing what they do now," he said, adding that the amount of laundry they wash has doubled. "It's a cost, but a minor cost compared to what it would be if there was an outbreak."
His biosecurity measures include using a "bio" room where workers change into clean work clothes and immerse their shoes into a foot bath, ensuring that every time people leave the barns they put on clean clothes before re-entering; installing a mailbox for feed delivery workers to place feed slips in so they do not have to enter the barns; ensuring manure-hauling trucks are cleaned and disinfected before they come to the farm; and installing biosecurity signs and an electronic, combination lock on the single barn entrance.
El-Gazaar said ag officials realized after the 2015 U.S. outbreak that they needed to cooperate better.
"They realized that this is really too big for one industry or organization to handle," he said. "You have to cooperate, coordinate and share information."
Poultry industry and county officials in 2015 participated in a conference call with  state veterinarian Dr. Tony Forshey to clarify responsibilities.