Saturday, February 11th, 2017
Wildcats hold on to defeat Rangers
By Dave Stilwell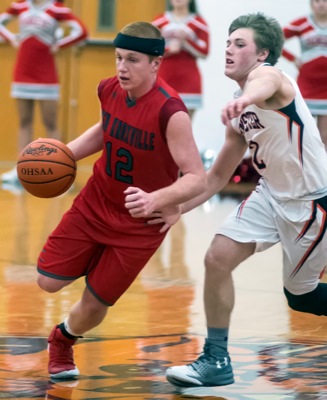 MINSTER - New Knoxville battled back from double-digit deficits twice, but Minster hit 12-of-19 free throws in the fourth quarter to secure a 64-59 victory over the Rangers on Friday night at Minster Middle School.
The Wildcats improved to 4-3 in the Midwest Athletic Conference and 9-8 overall. New Knoxville slipped to 1-6 and 5-13.
Both teams came out of the gate red hot. Aaron Ernst hit a couple of early three-pointers to help Minster jump out to an 11-point lead late in the first quarter.
But just when it looked like the Wildcats would take control of the game early, Nick Topp and Ben Lammers combined for seven unanswered points in the final 60 seconds of the first quarter to pull the Rangers to within three at 22-19.
The two teams combined to shoot 62 percent from the floor in the first quarter and scored a total of 41 points.
The second quarter was a different story.
Minster made its first four shots of the game from behind the three-point line, but missed its next six. New Knoxville did not fare much better, as neither team hit a field goal during the last three minutes of the first half.
The two teams each scored six points in the second quarter as Minster maintained its three-point lead, 28-25, at halftime.
"For us it has to do with depth," New Knoxville coach Josh Lisi said. "Our guys get tired and then they get sloppy. We try to get guys to sub in but it's tough. They don't use it as an excuse, they look at it as adversity and they accept it. But sometimes they get out of control because they get tired."
After Ernst opened the second half with a driving layup for Minster, Nathan Tinnerman and Topp each scored to pull the Rangers to within one at 30-29.
However, New Knoxville would go almost six minutes without scoring again and the Wildcats capitalized with a 12-0 run to take their biggest lead of the game at 42-29.
"We call it the third quarter drought, and we've been through it all season," Lisi said. "It's that point where we hit the wall and we have to decide if we're going to break through the wall or the wall is going to break us. We usually find a way to break through it. Sometimes it's a little too late, but we still break through it."
The Rangers rallied to make it a two-possession game in the fourth quarter, but Minster made enough free throws down the stretch keep New Knoxville at bay.
"We need to figure out how to make stops and close games out, but that's a good basketball team," Minster coach Michael McClurg said of the Rangers. "They play well together, they've got some good solid shooters and they're tough to stop, but we knew that coming in."
Topp poured in a game-high 22 points to pace New Knoxville. With four treys, Lammers followed with 16 and Tinnerman hit double digits with 10. The Rangers' only bench points was a lone field goal by freshman Andrew Poppe.
"Our guys showed heart tonight. We got down 10, came back. Got down by 10 again, came back. We just kept playing hard and it's a testament to them," Lisi said. "They didn't give up and I'm hoping this is something we can build on heading into the next couple games and into the tournament."
Minster had five different players in double figures, led by Ernst with 17. Brice Schmiesing and Jarod Schulze added 11 each. Isaac Schmiesing and Isaac Dorsten chipped in with 10 each.
"That's nice to see the balanced scoring," McClurg said. "We're starting to score the ball very well, but we have got a lot of work to do on the defensive end. We started the year strong on defense and it's kind of flip-flopped. We got to get it right to be more consistent as we head into tournament."
Before the boys tournament drawings on Sunday, Minster heads to St. Marys tonight to take on the Roughriders.
New Knoxville has a make-up game Monday at Shawnee and travels to Marion Local next Friday.